MS&AD integrated Report covers the Group's aspirations, medium-term strategy, initiatives aimed at solving the challenges faced by society and at increasing corporate value throughout the business.
Integrated Report 2018 takes up the Group's medium-term management plan "Vision 2021" which was launched in the current fiscal year, in order to explain our strategies and specific initiatives designed to facilitate sustainable growth towards realizing the image of society for which we are aiming.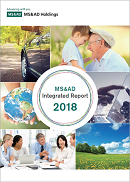 The MS&AD's Insurance Group's Mission, Vision and Values
The MS&AD's Story of Value Creation
Five Business Domains
MS&AD's Strengths: Scale, History, Diversity, Innovation, Sustainability

MS&AD's Path to Realizing Our Image of Society
Medium-Term Management Plan ー Reviewing the previous plans since the Group's founding
Risks and Opportunities
New Medium-Term Management Plan: Vision 2021
Financial and Capital Strategy
Towards Sustainable Growth and Achieving Targets for Group Adjusted ROE and
Group Adjusted Profit
Financial and Non-Financial Highlights
Key Management Indicators and Total Shareholder Return (TSR)
Strategies by Business Domain
Asset Management Strategy
Aiming for a Resilient and Sustainable Society
Creating Shared Value
World Map of Natural Catastrophes in 2017
Dialogue with Our Stakeholders
ERM
Human Asset Development and Quality Improvement
Corporate Governance
Basic Knowledge about the Insurance Industry
Glossary of Insurance Terminology
Corporate Profile
History of the MS&AD Insurance Group in Japan
Group Network
Credit Ratings
Group Company Data Sheets
Short Commentary: Group Financial Statements
Performance Record
ESG Evaluation
Third-Party Assurance
Up to FY2017 (Integrated Report)
Up to FY2015 (Integrated Report)
Up to FY2014 (Disclosure)
Mitsui Sumitomo Insurance
Solvency margin rate of Mitsui Sumitomo Insurance stated in annual reports from FY2004 through FY2008 is adjusted in the FY2009 report.