We believe it is important to understand what our stakeholders expect and want from our Group and to utilize this understanding to improve the quality of products and services in order to consistently be valued as a corporate group that makes progress based on communication with our customers. Our Group has various systems in place to facilitate communication with our stakeholders and offers quality which meets their expectations through feedback-based business improvement and highly transparent and effective corporate governance practices.
It is our role to provide the best solutions to the uncertainties and risks in society based on public expectations for the insurance and financial services. In order to provide safety and security to people and support dynamic business activities and a healthy and productive life, we listen and react to a wide variety of feedback from stakeholders, including customers, through such channels as consultations, requests, complaints, and opinions received, and utilize it for quality improvement. In addition, we publicly disclose our processes for understanding the feedback received, as well as the results and progress of counter measures.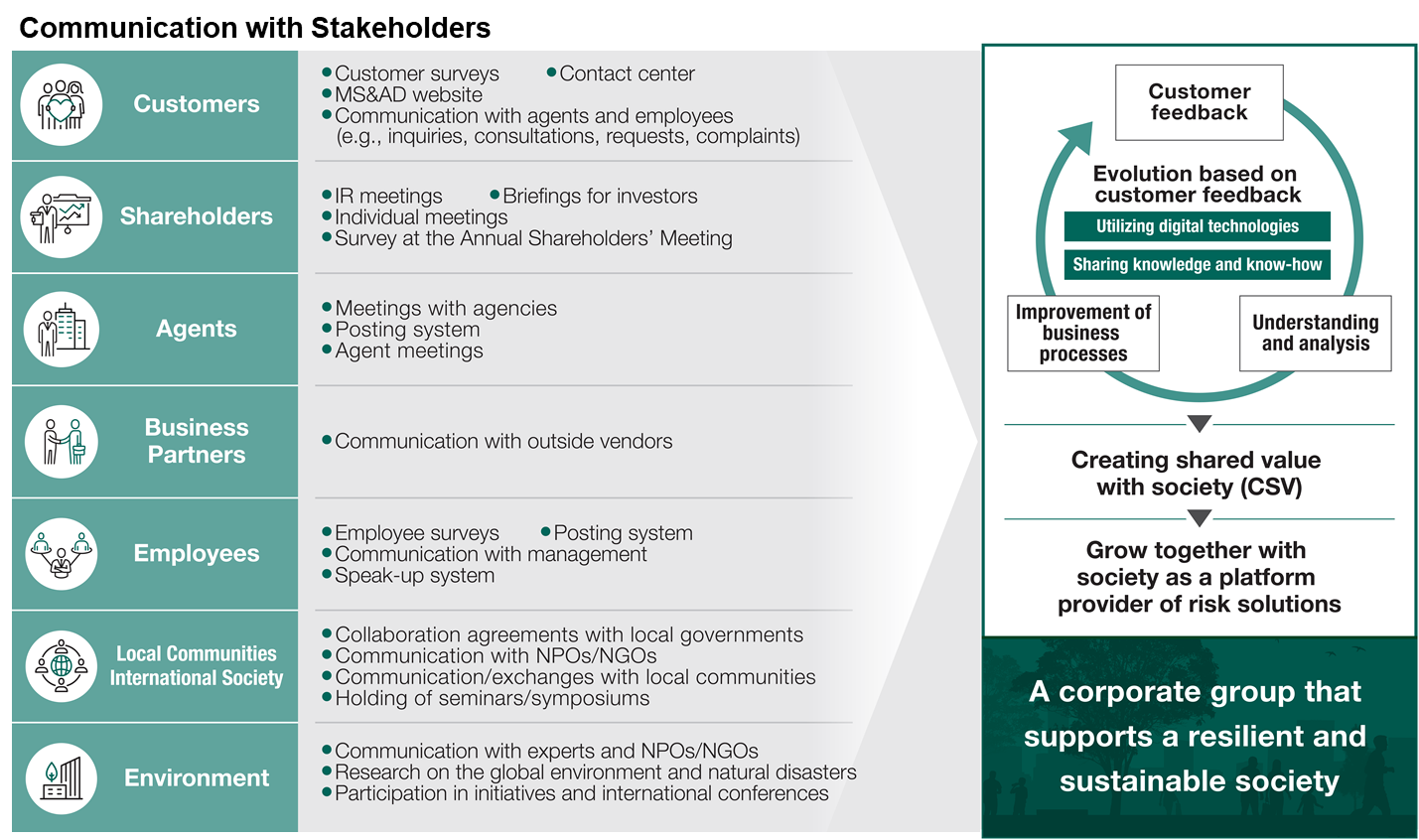 | | |
| --- | --- |
| Customers | Based on the MS&AD Insurance Group Basic Policy for Responding to Customer Communications, we listen sincerely to feedback from our customers obtained through customer questionnaires, the official website, and communication with agents/employees, and utilize it to improve business operations for quality enhancement. In addition, we have established the Customer-first policy in the business operations to ensure that we carry out business operations placing high value on the customer-first principle.We have developed various schemes that help to understand our stakeholders' needs and expectations and, to that end, to improve the quality of the products and services we offer together with management level discussions. |
Shareholders

We have been developing a range of IR activities such as IR meetings, briefings for investors, individual meetings, and shareholders' meeting questionnaires, in accordance with the Basic Policy to win the trust of shareholders and investors, and to enable our our Group's corporate value to be fairly evaluated. Our Group proactively engages in highly transparent information disclosure and constructive dialogue with shareholders and investors in an initiative to achieve sustainable growth and increase corporate value.
Specifically, through highly transparent information disclosure, our Group seeks to reduce information asymmetry with shareholders and investors. The feedback gained from the constructive dialogue with shareholders and investors is shared with management and the relevant departments to be utilized in the formulation of management strategies.
| | |
| --- | --- |
| Agents | We seek to contribute to resolution of social issues and grow together with society by maintaining continuous communication with agents, who are our business partners, to provide "Products/services covering before/after compensation/guarantees, in addition to "financial loss" and "Best solutions utilizing digital technologies" in an integrated manner by the our Group and agents. We intend to further strengthen communication with agents through measures such as holding study sessions aimed at bolstering their growth, supporting their activities to contribute to their local and regional societies, and providing an information-sharing system. Furthermore, due to the growth of full-time insurance agents' businesses, dedicated full-time staff members with expertise provide overall management support to agents, including in growth strategies, maintenance of systems, and staff education through training and one-to-one meetings, thereby improving the agents' management base and the quality of their products and services. |
| | |
| --- | --- |
| Business Partners | We will conduct fair and equitable transactions with integrity and endeavor to achieve sustainable development as well as to fulfill our corporate social responsibilities. The MS&AD Insurance Group explains its Group Environmental Basic Policy to business partners and asks for their cooperation. Furthermore, The MS&AD Insurance Group supports its business partners' initiatives towards the environment, including the acquisition of Eco Action 21 certification, a simplified version of the environmental ISO certification. |
Employees

・Each year, the MS&AD Insurance Group carries out an employee engagement survey covering topics such as those to ascertain the degree of diffusion of the Group Mission, Vision, and Values; the degree of unity within the Group; and whether employees feel a strong sense of motivation.
・A "speak up" system encouraging whistleblowing has been put in place, creating an environment in which employees can frankly and proactively share their views or raise concerns on any problems they may have.
・A message board was established on the intranet to collect the views and improvement proposals from employees in order to incorporate them into quality improvement. The opinions are reviewed at each headquarters division and the feedback is given based on the results.
・Through the exchange of opinions between executives and employees, we continue to make initiatives to leverage employee feedback in business operations.
Local Communities and International Society

As a member of both the local and international communities, the our Group takes part in domestic and global initiatives. We also contribute to realization of resilient and sustainable community development by revitalizing local communities and international society through support for regional business, identification of issues by means of communication with NPOs/NGOs, etc. in each country, and collaboration and communication with various stakeholders aimed at resolving local and global issues.

Resilient and inclusive community development (regional revitalization)

In order to promote initiatives through our insurance business to create shared value, our employees are encouraged to join environmental conservation activities and contributing activities to the local community so that they can deepen their understanding of social issues. Furthermore, through the MS&AD Unison Smile Club, a social contribution group created by the employees of our Group, donations are made that meet local needs through dialogue with local governments and various social contribution activities in collaboration with non-profit organizations.
Environment

Focusing on harmonious coexistence with the global environment (Planetary Health) as a priority issue, we have been promoting initiatives for responding to climate change, improving the sustainability of natural capital, and preserving and restoring biodiversity. We have also been contributing to resolution of social issues related to the natural environment through such means as conducting joint research programs with experts at universities, research institutes, etc. on global environment/natural disasters, holding seminar sessions/symposiums, and communicating with NPOs and NGOs.

Contributing to climate change mitigation and adaptation

Improving the sustainability of natural capital