Born of diversity, a Group characteristic, is the power of our ideas and creativity. We use these to generate new solutions that are a step ahead of a society in transition.

Spurred on by the spread of COVID-19, behavioral changes are emerging
throughout society, such as companies promoting working from home and
a rising number of contactless interactions. The MS&AD Insurance Group
also is taking such measures, including telecommuting and having online
meetings. We view this response to the crisis as a turning point for a
transformation that is creating a new business style based on
digitalization. Our aim is to concurrently achieve both greater productivity
and higher competitiveness. An example of this is the creation of a system
whereby a customer uses a personal smartphone to buy insurance, and
then receives service, all without face-to-face contact. This sort of system
represents a sea change, going from a personal meeting and visitation type
of business to that of a touchless, paperless, cashless style driven by a
digital transformation.
In addition to telematics, cybersecurity and other changes to existing
businesses, the advance of digital innovation is leading to initiatives that
create new businesses. Here we introduce two such businesses on which
we are focusing our efforts.
The first is the construction of a digital insurance sales platform,
through which we collaborate with EC operators and others to offer
customers a one-stop way to sign up for peripheral insurance products
while in the process of purchasing products and services. From obtaining
insurance policies to their payment, end-to-end digitalization of the
process realizes smooth and highly flexible provision of insurance. This
represents the new market we are aiming to create.
The second is Risk × Technology = "RisTech." This is a service that
provides the risk analysis or reports, as well as the risk models, to aid in
finding solutions to the issues that face corporate business partners. In
addition to utilizing internally held data such as on policies and accidents,
data scientists leverage various external data, including that held by those
corporate business partners themselves. Looking ahead, together with
offering this service to numerous corporate business partners and having
the insights gained through this lead to the development of new insurance
products and services, we will endeavor to aid in finding solutions to those
problems affecting society, such as preparations for increasingly
large-scale natural disasters or contributing to regional transportation.
RisTech 「Risk」×「Technology」
The use of big data and the latest analytical algorithms enables the visualization and optimization of the risks that surround a company and the new services that will facilitate solutions to issues.
Telematics
Positioning telematics technology as a linchpin, we will take action to work with CASE, MaaS and other cutting-edge technologies and business models, and staying a step ahead of these, will work to realize a safe and secure mobility society and super cities.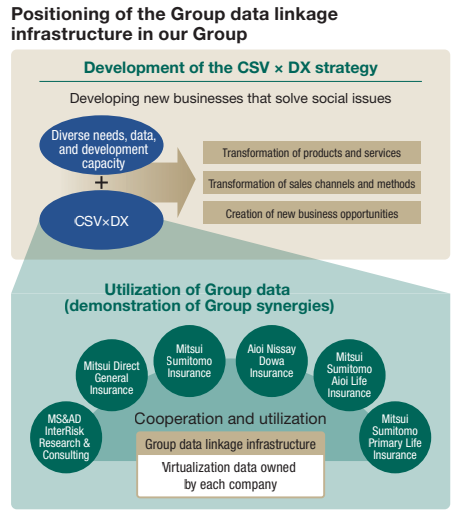 Multidimensional cyber countermeasures
"Risk diagnosis, protection-to-response and, in line with that, compensation" provided coherently and in accordance with needs and the latest technologies based on domestic and international networks̶cyber countermeasures that only the Company can provide.
時流を捉えたイノベーションの創造に向けた取組み