Meeting the Trust of Society with High Quality
The MS&AD Insurance Group believes it important to pay close attention to the expectations and needs of customers and other stakeholders and to put information derived from this in to good use in improving the quality of its products/services in order to continue being a corporate group needed by society.
By putting in place a variety of schemes to solicit the views of stakeholders, we are continuing to improve our quality and operations through executive-level discussions to prove ourselves worthy of the public's trust. For example, we provide easy-to-understand product explanations, use advanced technology to make procedures more convenient, adopt approaches that meet the needs of a diverse range of customers, including the elderly and people with disabilities, and work to improve the skills of employees.
Quality Improvement through Communications with Stakeholders
The Group has established the "MS&AD Insurance Group Basic Policy for Responding to Customer Communications" and provided a scheme and opportunity to listen to the voice of customers and other stakeholders for quality improvement of products and services, as well as compliance, respect for human rights and environmental initiatives.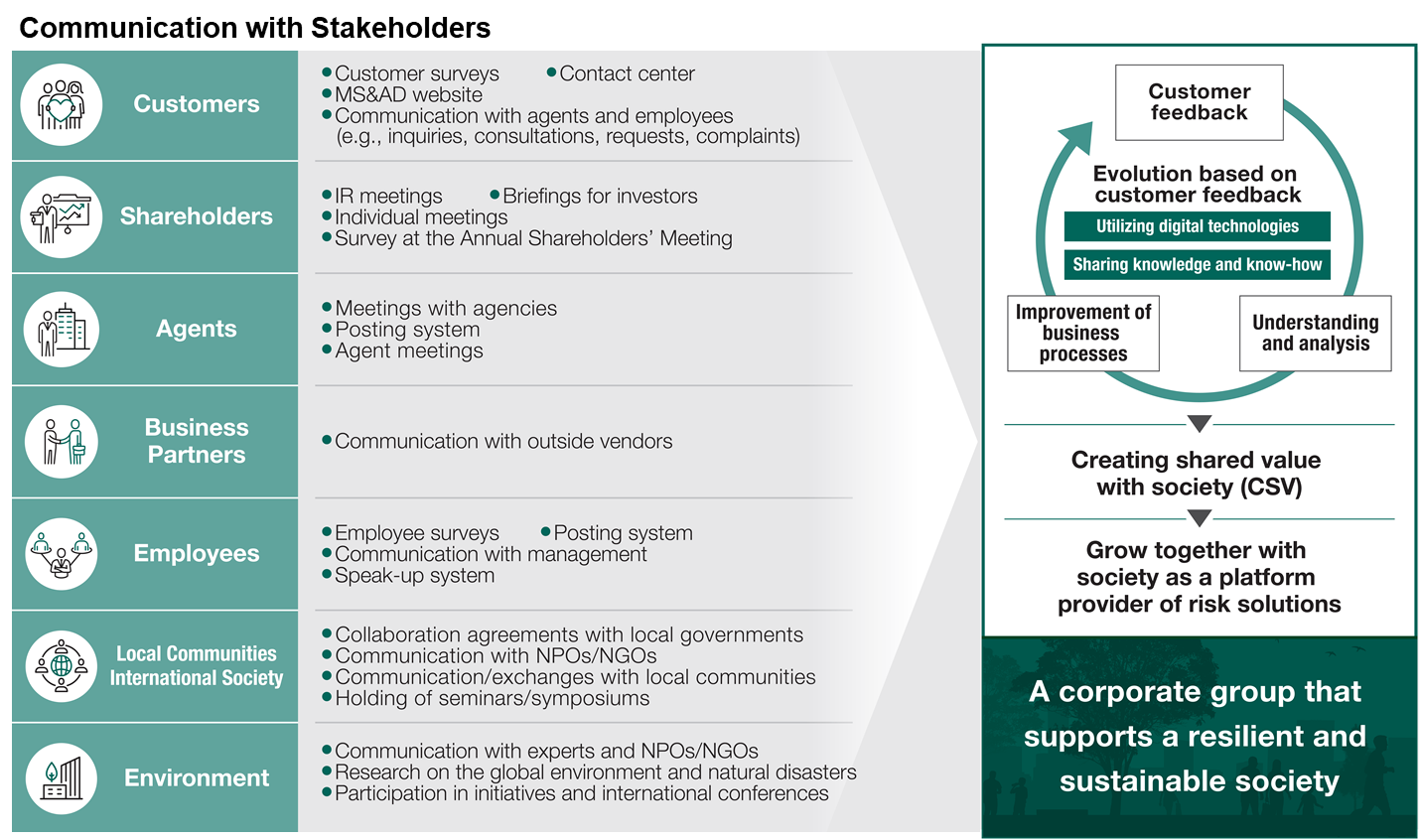 Schemes for Receiving Feedback from Customers
The MS&AD Insurance Group has formulated a Basic Policy for Responding to Customer Communications and is receiving a wide range of feedback from customers including through consultations, requests, and complaints. The received feedback is then used for quality improvements. In line with the aforementioned policy, Domestic Group insurance companies utilize the customers' views to improve their business processes so they can provide products and services that better satisfy customers.
We disclose the substance and results of the improvement activities on our website so that the customers can see the status of the improvements.
A Customer-first Policy in the Business Operations
The five Group insurance companies in Japan have formulated and published customer-first policy in the business operations based on the Financial Services Agency's Principles for Customer-oriented Business Conduct. These policies align with the framework for consumer-oriented voluntary declarations advocated by the consumer-oriented management promotion organization composed of the Consumer Affairs Agency and other members.
Please see individual companies' official websites for further information regarding these policies.
<Customer-first policy in the business operations> (Japanese only)
Specific Initiatives in Customer-Focused Business Operations
Our Group is striving to manage its business affairs by placing high value on a "customer-focused" attitude to ensure quality that earns the trust of society. The five Group insurance companies in Japan are engaged in efforts based on customer-first policy in the business operations and are periodically disclosing key performance indicators (KPI) that are used to objectively assess these efforts and the progress made.
Please see the official websites of these companies for specific information regarding the efforts/progress being made.
<Customer-Focused Business Operations – FY2019 Overview> (Japanese only)
Customer Feedback (Complaints) by Major Factors
We receive a wide range of customer feedback and are making company-wide efforts to improve our products and services.
We regard customer feedback as "All feedback from customers (Inquiry, consultation, request, complaint, dispute, praise, appreciation, etc.)" and define customer feedback (complaints) as an expression of dissatisfaction.
Insurance
Contracts
Sales Contract
Management
Payment of
Insurance Claims
Customer Information
Management
Others
Total
number of
applications received*
8,785
9,667
22,944
595
2,677
44,668
*Combined value of MS and AD 2 companies
<Principal Approaches>
Efforts to enhance customer convenience in obtaining policies

We have been developing and adopting more convenient and comprehensible procedural methods to provide information on insurance and services to a variety of customers.
・Introduction of smartphone settlement service for insurance premiums (MSI, ADI) (Japanese only)
・Procedures for applying for and obtaining policies are available online (MSI, ADI)
・Procedures for obtaining policies without paper utilizing tablets and other devices. (MSI, ADI, MSI Aioi Life)
・Dissemination of information on insurance products using LINE (ADI)
・Reinforcement of product explanation videos for customers (MSI, ADI)
Prompt and courteous customer service during natural disasters

・We are helping to rebuild customers' livelihoods as soon as possible by increasing manpower and improving administration at our Accident Claims Center and Insurance Claim Payment Center in line with the scale of disasters, including earthquakes, typhoons, flooding, and heavy snowfall, and by rapidly settling insurance claims.
・Established a paperless (PDF document) business flow to further improve quality and speed up response.
・We have been sending out post-disaster messages of sympathy and condolence as well as information on insurance claims by LINE.
Screening of insurance payments

・Claims determined not to be eligible for insurance payments but which nevertheless satisfy certain conditions are examined by a Screening Committee comprising outside attorneys and other experts.
・MSI and ADI disclose the number of claims examined and the cases examined on their websites.
Operational improvements utilizing customer suggestions

・In accordance with MS&AD Insurance Group Basic Policy for Responding to Customer Communications, customers' opinions that are received through consultations, requests and complaints are collected, centrally managed and analyzed, then actively implemented to improve business operations. The details and outcomes of these improvement efforts are disclosed on the website in sequence.
・We have issued a declaration of conformity with ISO10002, guidelines for quality management, customer satisfaction, and complaint response at organizations that also serve as international standards for customer service. We are continually upgrading our services in keeping with customer views.
Inculcation of customer-focused value orientation among employees/agents

We have been fostering a suitable corporate climate by infusing customer-focused values into operations through education for employees and agents.
<For employees>
We conduct workplace meetings and arrange training and contests aimed at improving skills in all departments.
<For agents>
We provide agents with various training and online learning opportunities, and we seek to motivate them via an agent quality certification system.
Quality Improvement Utilizing Cutting-edge Technologies
To satisfy a variety of customer needs to a high degree, we develop products/services utilizing cutting-edge ICT and other technology and employ new technologies such as artificial intelligence (AI), Big Data, and voice recognition to revamp our operational flow.
<Principal Approaches>