To remain a corporate group that is truly needed by society, we consider it important to know what our stakeholder voices are to improve the quality of products and services. The MS&AD Insurance Group has constructed various schemes to absorb stakeholder opinions, and are reflecting them in efforts to improve our products and services. In addition, stakeholder views are being reflected not only in business processes, but also in discussions at the management level.
Leveraging Stakeholders' Voices to Improve Quality
The MS&AD Insurance Group analyzes and reviews information obtained from all of its points of contact with stakeholders, including customers, and uses it to improve the quality of its products and services, improve business operations, enhance corporate value, and resolve social issues. Through these efforts, it aims to fulfill its responsibility to its stakeholders and meet their expectations.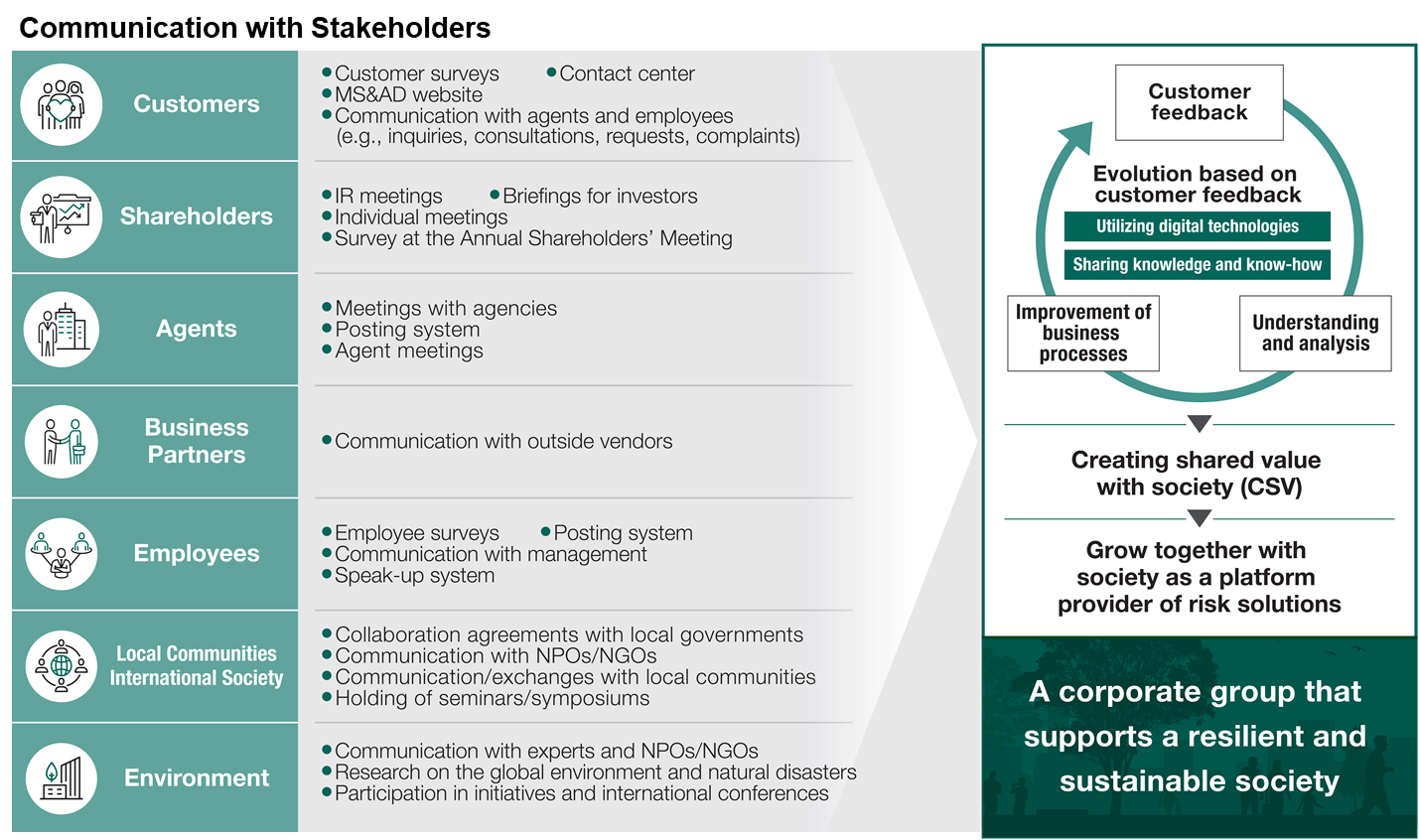 Schemes for Receiving Feedback from Customers
The MS&AD Insurance Group has formulated a "Basic Policy for Responding to Customer Communications" and receives a wide range of feedback from customers including through consultations, requests, and complaints. This feedback is used to make quality improvements. In line with the policy, Domestic Group insurance companies utilize customers' views to improve their business processes so they can provide products and services that satisfy customers.
We disclose the substance and results of these activities for improvement on our website so that the customers can see the actual improvement.
Domestic Group insurance companies: Approaches related to customer views
Customer Questionnaires
Domestic insurance companies of the Group ask customers to fill out "a customer questionnaire" at contract closing and claim payment, and use their opinions to improve product and service quality. The questionnaire asks about customers' "degree of satisfaction" with the services at the time of contract, as well as their "degree of satisfaction" with accident response provided by our company/agents and the "advisability" of the products and services to others.
The main items on the questionnaire (level of satisfaction) have also been established as KPIs(*) aimed at promoting initiatives.
(*) Indices to Quantitatively Evaluate Initiatives
Customer Feedback Structure
The Group companies operate a complaint response system in conformance with international standard "ISO10002" (Quality management - Customer satisfaction - Guidelines for complaints handling in organizations).
By thoroughly implementing the system, we will further make voluntary improvement activities (PDCA cycle) take root in response to customer opinions and promote initiatives to improve customer satisfaction.
Domestic Group insurance companies: Approaches related to ISO10002
Schemes to Absorb External Experts Opinions
In a bid to offer more satisfying products and services to customers, MSI and ADI periodically exchange ideas with outside experts to receive opinions on issues for quality improvement. Expert opinions are also reported to management and utilized to improve the quality of products and services. In addition, external professionals in the consumer-related field are called in to gather opinions from consumers' viewpoints on brochures and application forms used at insurance solicitation and various materials about policy service procedures. The aim is to make them easier to understand.
Examination of Insurance Payment
MSI, ADI, Mitsui Direct General, and MSI Aioi Life examine cases that are determined to be ineligible for insurance claims, payments and cases where a customer filed a complaint. For cases meeting certain conditions, the examinations are conducted by a board of review consisting of outside lawyers and experts. At MSI and ADI, state of examination is disclosed at the company's website. Moreover, both companies put efforts into sharing information about the results of the examination through means such as internal news, contributing to further improving the quality of loss support work.
Schemes to Absorb Opinions of Agents
MSI and ADI have built their own agent networks as part of their measures to reinforce communication with agents. They receive opinions and proposals in a timely way on development of easy-to-understand products and revision from their member agents. They then apply these opinions and proposals to developing better products and services.
In addition, MSI, ADI, and MSI Aioi Life runs system which receives the request of improvement from our agents and canvassers(*) through our offices. Those requests to the system are being fully utilized for product development and revision, making forms simpler and improvement of agent system.
(*) Permanently-hired employees and trainees engaged in solicitation
Schemes to Absorb Employee Opinions
At the MS&AD Insurance Group, to reflect employees' ideas in improving quality, employee's voices are assembled for review by the headquarter departments and they build a system to feed back the review results.
There is a bulletin board on the in-house intranet which is a tool for posting proposals to the head office divisions and displaying the discussion results. Assigned corporate executives have periodic meetings to exchange opinions in sites across Japan. Employees' opinions are utilized to improve management, products and services through the above efforts.
Upgrading Customers' Ease of Understanding and Convenience
In order to deliver information on insurance and services to various customers, the MS&AD Insurance Group is developing and providing simpler and more convenient business procedures. We are trying to provide business procedures and information which pay due consideration to the elderly and persons with disabilities, while utilizing PCs and smartphones.
Provision of Easy-to-understand Explanatory Materials
MSI, ADI, MSI Aioi Life, and MSI Primary Life have laid down in-house rules concerning terms to be used in policy clauses and items for notation in pamphlets, we began using policies and pamphlets with plain terms and figures.
When soliciting insurance with policies effective, we have adopted a fonts type that are easy to read and identify (UD font) in pamphlets and disclosure statements for explaining to customers about important areas in their documentation such as the "policy summary" and the "information calling for attention." Regarding the disclosure statement, we have worked to present the materials in easier-to-understand formats, such as formats that explain processes in chronological order.
Easy-to-understand Pamphlet
"Book to answer your question
automobile insurance" pamphlet
At MSI, a pamphlet called "Book to Answer Your Questions on Automobile Insurance" is available for children to aged readers, which easily explains what automobile insurance is. With larger prints and full of illustrations, the pamphlet answers customers' doubts in a question-and-answer session to provide an "easy" image to automobile insurance which is considered to be hard to understand.
"TOUGH Automobile Insurance" pamphlet
In the pamphlets of its core "TOUGH Automobile Insurance," and other products, ADI has made efforts for helping customers get an easy-to-understand general idea about automobile insurance, which is often considered difficult. They do this by providing pages that shows the entire coverage for bodily injury and property damage liabilities. A simple pamphlet is also provided, which includes summaries of products offered.
"&LIFE New Medical Insurance
A Plus" pamphlet
For "&LIFE New Medical Insurance A (Ace) Premier" pamphlets, MSI Aioi Life has endeavored to communicate our insurance products in a more easy-to-understand manner for our customers. For example, we have created pages listing our lineup of coverage options so that customers can view them altogether, as well as laying out the pamphlets in such a way that our customers can understand our various insurance products as they turn the pages.
Received UCDA Award 2017 (Another Voice Award)
Mitsui Direct General was presented with Another Voice Award (Insurance, Credit, Public Services Categories) at the 2017 UCDA Awards organized by the Universal Communication Design Association (UCDA). This marks its third consecutive year of receiving the UCDA Awards after last year and the year before last. It was also the only nonlife insurance company to be presented with this award in FY2017.
The "Notification of Payment Request," which was the subject of the appraisal for the award, was highly rated with comments such as "Achieves a clear layout by minimizing the volume of information," "The use of colors and easy-to-understand procedures has won the overwhelming support of consumers," "Motivated efforts to improve the notification, including reducing the number of colors, simplification of text, and creative manipulation of fonts, have enhanced readability."
Printed Material in Using Universal Design
As an insurance and financial business services provider, we not only provide compensation in times of accidents and disasters, but also put effort into providing services and conducting research and studies on preventive measures to prevent the occurrence of accidents and disasters, and on the detection of the risks that give rise to such accidents and disasters. In this way, we aim to create sustainable societies.
MSI

Obtained a certification by Color Universal Design Organization
Selected colors and designs from users' perspectives (Brochures for GK series)
| | |
| --- | --- |
| ADI | Adopted colors and designs that take into consideration differences in color vision due to disability, aging, and other factors (Brochures for Tough series) |
Mitsui Direct General

Used fonts that are easy to read for the elderly (Minnanomoji) (pamphlets, disclosure statements, and insurance claim form)
Used Universal Design Fonts (insurance certificate, guide to agreements, etc.)
Creative efforts to minimize volume of information and create reader-friendly designs (Notification on Outstanding Monthly Payments)
MSI Aioi Life

Used Universal Design Fonts that are easy to read for the elderly
Use of colors that gives consideration to individual differences in color perception
Obtained "Easy-to-understand design certification" by Universal Communication Design Association (UCDA) (Life insurance declaration form)
MSI Primary Life

Used a design combining different shapes, patterns distinguished by line and colors and other features to look neater and more legible to users. (Part of pension payment invoice and ledger sheets for insurance protection procedures)
Obtained "Easy-to-understand design certification" by Universal Communication Design Association (UCDA) (Claims Support Guide)
Improve the Convenience for Customers in Contracts
Internet Services
MSI sells overseas travel insurance, insurance for bicycle users, golfer insurance, and motor bike liability insurance, as well as driver's insurance that is sold on a 24-hour basis, known as "1 Day Insurance," and comprehensive life compensation insurance sold on a 24-hour basis, known as "1 Day Leisure Insurance," on the website of agencies. Approximately one million customers use the "Customer Web Service" provided to private customers on the website. Online, customers can confirm the content of policies with the "eco insurance certificate" and "insurance clause on the web," change the address, and take procedures to replace vehicles covered by "GK Automobile Insurance." It is also possible to confirm the contents of policies and take procedures to change your address through the free smartphone app, "Suma-Ho."
ADI provides "My Page" to customers with any online environment, for example, PC, smartphone, tablet PC, or cell phone. ADI supports customers with various services , such as the "paperless insurance certificate" and the "insurance clause on the web" to confirm policy contents, the "accident progress report" to confirm the status of accident responses, prizes for customers to apply with accumulated points to receive gifts, and donate bell marks. More than 7 million customers have used these services as of April 2018.
Mitsui Direct General sets "My homepage" for each policyholder and has about 700,000 registered users as of March 2018. Available services at the "My homepage" include procedures for contract renewal, getting estimates for a new policy, app procedures and reporting an accident.
Electronic Contracting Procedure
It is possible to indicate the contents of insurance contract in an easy-to-understand manner on the screen, change the contents of coverage, and re-estimate the premium on the spot. The contracting process is completed by pressing the application button on the screen. As a result, it is not necessary for a customer to sign or submit an insurance application form.
A function that is linked to "Regi-pay," a dedicated terminal for account registration, has been added for customers who select the option of payment through account-to-account transfer. Through this system, it is not necessary to attach a dedicated application form or the official seal of the financial institution during account registration. This makes it possible to complete procedures in a paperless and seal-free manner from the contract procedures to account registration procedures.
For customers who select the option of credit card payment, a function has been added to display a two-dimensional barcode (QR code), which allows them to easily access the dedicated registration site for their credit card information from their mobile phones or other smartphone devices. This contributes to improving convenience for customers. We hope to expand the usage of electronic procedures by making the functions strengthened and improved.
MSI Aioi Life offers paperless app procedures called "Seiho Kantan Mode" which allow customers to make an insurance contract just by going through the app procedures on a computer. In addition, digitizing paper items such as product brochures that were necessary for proposing insurance products to customers allows them to obtain various pieces of information and make inquiries through a computer. We have achieved a significant improvement in convenience and simpleness from proposal to contract process.
Dissemination of Information on Insurance Products, etc. on "LINE"
MSI, ADI and Mitsui Direct General offer new services for customers using "LINE", a communication app operated by LINE Corporation.
MSI offers customers registered with "Customer Web Services" a useful function in case of an accident or disaster. The function, using the Talk and Personal ID function of "LINE", allows users to check the details of their own insurance contract and report an accident. Furthermore, through "LINE," it has also extended its sympathy to policyholders in areas affected by the earthquake that struck the northern part of Osaka and the heavy rains in Western Japan in 2018, and informed them that they may be eligible to receive payouts for insurance claims.
ADI is trying to make contract procedures more convenient, while providing information on "One-day Supporter," automobile insurance whose contract procedure can be easily completed through smartphones, and on insurance products according to the season. In addition to information on insurance products, it is delivering useful contents, such as quizzes for safety driving and healthy recipes.
Mitsui Direct General delivers information about the maturity of car insurance, alerts during large-scale disasters, and other useful information in a timely manner to customers who connect "My Homepage" with "LINE."
The MS&AD Insurance Group will continue offering products and services that satisfy customer needs.
Consideration for the Elderly and Persons with Disabilities
MSI, ADI and MSI Aioi Life are promoting appropriate insurance sales to the elderly and persons with disabilities by instituting the fundamental rules that salespeople must strive to "gain an accurate grasp of customers' intentions," "explain things in an easily understood and polite manner," and "arrange for customers' relatives to sit down together with customers to assist in decision making.
Moreover, aiming to market insurance products with still greater politeness and appropriateness, the companies have instituted detailed rules for conscientiously catering to customer needs when necessary through such methods as "arranging for customers to be served by multiple salespeople," "arranging for multiple meetings when requested," and "arranging for another salesperson to confirm and follow up on transactions."
Additional "making a memorable impression" rules for interacting with elderly and disabled customers include "speak in a steady voice, slowly, clearly, with clear enunciation," "seek to present explanations while replacing foreign loan words and insurance jargon with ordinary words."
Mitsui Direct General has published a new section on the company website titled "For Customers Who have Difficulties in Hearing and Speech," for users with such disabilities. While it has always offered various services to customers who have difficulties in hearing or speech through the use of its website, e-mail, and proxy phone services, it has now consolidated information about these services on one webpage to further enhance convenience for users.
MSI and ADI stipulate that sales people deal with persons with disabilities in the same manner as they deal with the elderly. In light of the implementation of "the Act on the Elimination of Disability Discrimination", we will further strive to avoid discriminatory treatment and give reasonable consideration to disabled customers.
Furthermore, we are working to make reference material easier to understand by using fonts with lettering that is easily distinguishable and that can be easily read by even the elderly, such as "Universal Design Fonts," enlarging text sizes, and adopting colors and designs that consider individual differences in the ability to see color among persons with disabilities and the elderly. MSI also provides information in Braille for customers with visual disability, such as product overview and notifications about policy contents. In order to ensure the appropriateness of these initiatives, we will continue to improve products and services even further by analyzing opinions from elderly customers as well as customers with disabilities and considering appropriate improvement measures.
"Easy Guide to Procedures" for the elderly and those with visual disability
MSI Aioi Life provides information about the flow of procedures when making claims for insurance benefits, and specific examples of when insurance benefits can and cannot be paid out, through the booklet "Submitting Claims for Insurance Benefits."
It has also prepared an "Easy Guide to Procedures" for the elderly, which provides a simple summary of procedures in a booklet printed in large font. This Guide also comes with an audio code, allowing customers to listen to an audio recording of the contents in the Guide by scanning this code using a dedicated reading device.
To allow those with visual disability to identify the audio code printed in the booklet, a semicircular notch in standard specification has been inserted into the Guide. By touching this notch, the user will be able to identify the position that the audio code has been printed on.
The "Company Name," "Information about documents for claims procedures enclosed" and "Guide comes with audio guidance function" are also printed in Braille on the envelope that the claims procedure documents and Easy Procedure Guide are sent out in, making it easier for those with visual disability to understand.
"Family Eye (Relatives Notification System)"
MSI, ADI, and MSI Aioi Life provide the "Family Eye (Relatives Notification System)" as a bridge that connects parents and children.
This system is the first service in the non-life insurance industry which ensures that important notifications regarding insurance policies are delivered to the registered relatives of the policyholders from us or agents/canvassers during emergencies when we cannot contact the customers.
We support security and safety of the aging society with the aim of responding to recent changes in the environment where elderly people are increasingly living apart from relatives as a result of the further aging of society and declining birthrates.
Improve the Services Aimed at Meeting the Specific Needs of Elderly Customers
MSI Primary Life carries a rich line-up of products, including asset-building products that complements public pension through the customer's own efforts, and products that can be used as inheritance measures to ensure that assets are passed on appropriately to the next generation. MSI Primary Life has many policies outstanding to senior citizens.
After giving consideration to improve services to the elderly and tailor them specifically to their needs, we are making various efforts. For example, we introduced to customers "Family Registration Service," which allows family members of a policyholder to inquire about and obtain the details of an insurance contract.
Magokoro Visiting Service (Car Insurance)
MSI provides the Magokoro Visiting Service upon request, in cases where customers or other parties involved in an accident have been hospitalized, or where it is difficult to contact the aging customer or customer with disabilities by telephone. We did so by taking into account the changing societal environment and diversified customer needs including the progress of the aged society and elimination of discrimination against people with disabilities. MSI will continue making efforts for improving the quality of accident response.
Internet-based Roadside Services for People with Hearing Impairments
MSI and ADI offer an Internet-based roadside service system for people with hearing impairments. Customers can use the e-mail and Internet functions of mobile phones and smartphones (iPhone and Android) and follow on-screen guidance to transmit the required information, rather than using oral communication. Customers can also use this service through their smartphones (iPhone, Android devices).
Responding to accidents using the sign language interpreting service for customers with hearing disability
MSI provides accident response using a sign language interpreting service for customers with hearing and speech disabilities. The customer and an operator communicate using sign language via a video telephone, and the contents of the conversation are interpreted simultaneously into audio format to a company representative. This enables smooth communication between the customer and the company. The service is available 365 days a year, from the point when the company receives notification about an incident related to car insurance, fire insurance, accident insurance, and casualty and surety insurance, until the point of the payout of insurance claims.
Quality Improvement using Advanced Technology
The MS&AD Group, in a bid to respond to various customer needs in a sophisticated manner, is engaged in various efforts. These include the development of products and services utilizing technology such as advanced ICT and making innovative changes on how to solicit insurance leveraging new technology such as artificial intelligence (AI), Big Data and voice-recognition.
In addition, we have integrated system security across the Group for stable service and protection against cyber risk that is increasing along with the advancement of ICT technology.
Quality Improvement of the Contact Centers
"MS&AD Group Contact Center (CC) Quality Standards," evaluation standards for CC's operations and quality that is common to the whole Group, have been developed. Each Group company checks its CC's operations against the standards, and carries out the necessary improvement measures. By sharing the status of each Group companies' efforts and best practices within the whole Group, we are improving the quality of the whole Group. Concerning evaluation by an external organization, we received three stars at FY2017 HDI Benchmark organized by HDI-JAPAN, the world largest organization in the support service industry. In addition, ADI received "a five-star certification" which means that "its management of commercially value-added support centers and leadership in management of companies and centers meet certain standards comparing with internationally recognized best practices."
Contact Center Strategy Meeting
"Strategy meetings" by heads of the Contact Center of each Group company and PT (theme: center operation, education and training) by persons in charge are held periodically. The purpose is to improve the quality of the whole Group's contact centers, reinforce operations, and improve operational efficiency and human resources development while sharing information.
Personnel Exchange
For information sharing (exchange) among the contact centers in the Group and training each other, the staff of contact centers actively interact with each other through "the Group Contact Center (CC) Joint Training" and "CC Visit".
Telephone Support Contest
Telephone support contest
Aiming to improve the customer service quality and mutual training of customer service representatives, the Group holds the "MS&AD Group Contact Center Telephone Support Contest" every year. The contest provides an opportunity for exchange among contact centers, and creates a climate of friendly rivalry conducive to learning new things above and beyond the framework of each contact center's operating style. In fiscal 2017, from around 4,000 staff members at contact centers, 16 were chosen to participate in the contest and competed to show off their telephone support skills.
Payment of Insurance Claim Service Preferable to Customers
The MS&AD Insurance Group is taking various steps with high levels of accuracy, speed, and integrity in order to provide customers with reliable claim services.
Reliable Receipt System for Accident Report and Provision of the Course of Accident Response
The Group's domestic non-life insurance companies have established "accident reception centers" that are open for receiving information on accidents in Japan 24 hours a day, 365 days a year. On weekday nights and holidays, the centers will provide various kinds of initial support, such as contacting the other parties in automobile accidents on behalf of customers, and in cases when customers have been injured and hospitalized, the centers offer such special services as visits to the hospital by specialized staff. Moreover, the post-accident response measures include staff members telephoning customers to provide detailed explanations of the progress of claims adjustment situations, aiming to put themselves in customers' shoes, alleviate their worries, and respond to whatever questions they may have.
MSI receives information on accidents on the internet through the MSI's website or own "Suma-Ho" smartphone application. In order to ensure the accident response reliable to our customers, MSI installed a "one-accident, one-team" system for reinforcement of coordination when two or more personnel are assigned to a single case. In this and other ways, the work processes constructed in response to customer views are in operation at Service Centers nationwide. ADI is working to deliver quick, considerate and reliable accident response services under "the Full Support Declaration". In addition, we launched "24/7 Accident Response Service" in FY2016 and are providing the same level of accident response services as those provided during normal business hours even during night time and holidays. We are doing this in a bid to provide an accident response that meets the needs of individual customers. We take in accident reports through our website and website for feature phones as well as normal telephones. In addition to accident report menus on our website and website for feature phones, a fax number dedicated for people with a hearing or speech impairment is available to take accident reports. We have created a barrier-free environment for accident reports.
Through "My Homepage," prepared for each individual customer, Mitsui Direct General receives notifications about accidents, and provides information and guidance about the response process for incidents involving objects or people, payment history for insurance claims, etc. Customers and full-time staff can also exchange two-way messages via the "Anshin Message Board," a dedicated communication tool set up for customers.
Improving Customer's Satisfaction by Responding to Incidents
Aiming to realize non-life insurance services which satisfy customers, the MS&AD Insurance Group is taking various steps to improve the work quality of claim service staff.
MSI provides prompt and attentive explanations and the appropriate payout of insurance benefits to all customers involved in an accident and other parties involved in the same accident. It also practices accident response that "reaches the heart," and which places customers as the first priority.
ADI, under "the Full Support Declaration," aims to be a reliable partner by delivering quick, considerate and reliable accident response services. We make our best efforts to ensure customers feel "I'm happy that you are the person in charge," and be a customer-preferred insurer.
In order to provide professional and sympathetic accident services, Mitsui Direct General is engaged in efforts to improve the quality of its accident response services based on the results of survey responses received from customers.
Quality Improvement Campaign
MSI carries out practical training such as role-playing on telephone response and daily guidance by a trainer with specialized skills, and holds presentations of accidents cases. Through those efforts, MSI improves employees' skills to ensure high level and uniform service nationwide. In addition, we utilize the opinions offered in the questionnaire postcards sent to customers when paying insurance money to further improve quality.
In addition to sharing videos with repair workshops, advanced technology such as video chats and drones are also used to verify the extent of damage, thereby contributing to prompt payouts of insurance claims.
In times of large-scale natural disasters, incident reports are received speedily through the Wide Area Disaster Customer Web System, which incorporates Robotics Process Automation (RPA) technology. In addition, through other systems such as the Wide Area Disaster Witness Management System*, efforts are also made to ensure that insurance benefits reach the claimants quickly. Even during times of disaster, the company strives to respond attentively to customers, such as by providing information about submitting insurance claims to customers in the affected areas who have not submitted any incident reports, so as to be absolutely certain that all customers will be able to receive their insurance benefits.
ADI is working to improve customer service skills through carrying out regular trainings and conducting Nationwide Heartful Support Contest etc. Efforts are also made to improve overall business performance and quality by presenting and sharing frontline initiatives in the independent and autonomous operations of the Claims Services Department.
Mitsui Direct General strives to improve customer service skills by organizing presentations of good practices and telephone reception competitions. In February 2018, it became the first company in the non-life insurance industry to receive the highest rating of three stars in the FY2017 HDI Rating Benchmark organized by HDI-Japan, for its accident response and insurance benefit payout departments under the "Monitoring" category.
(*) A system that enables the integrated management and efficient inquiry into appointments with customers, number and schedule of investigators, and location information of the affected property.
Work of Claims Adjusters
Claims adjusters of insurance companies investigate damages of a car accident when such accident occurs, such as the confirmation of damages of a vehicle and the finalization of repair cost.
In addition to deepening the cooperation between claims adjusters and case managers, MSI has established claims study teams at 21 locations across Japan to further promote the appropriate certification of repair costs. Moreover, we are always performing quicker and more appropriate handling of accidents from the perspective of customers; for example, when vehicles and buildings are damaged at the same time by wide-area water disasters, we investigate their damages together.
At ADI, its affiliate, Aioi Nissay Dowa Claims Adjusting Company, Limited holds a national claims adjuster skill contest and a national good practice presentation, where adjusters show results of daily self-improvement and good practices and share them nationwide to further improve the skills and capabilities of damage investigations.
Quality Improvement by Reviews on the Insurance Claims Payment Processes
Mitsui Sumitomo Insurance Underwriting at Lloyd's(*) Limited (MSIUL), which is MS Amlin's subsidiary, has established an internal working group with the aim of building an insurance claims payment system that customers can rely on. In addition to conducting analysis and reviews on the insurance claims payment processes, it has also introduced important management indicators to improve insurance claims payment services by providing initial support to accident response and payment of insurance claims. Through these efforts, we have achieved greater efficiency, speed, and transparency in our insurance claims payment processes. Lloyd's is an international insurance trading market located in London, UK. MSI was the first Japanese insurance company to enter the Lloyd's market in 2000, when it commenced underwriting work.
In addition, we are working on training employees with necessary expertise and skills for supporting the handling of special accidents and improving the operational quality of affiliated companies that provide accident support services in a bid to deliver accurate, quick, stable and high-quality services. Our claim payment department and risk engineering department cooperate to issue a periodic report titled "Loss Incident". In it, the causes of frequently occurring accidents and special accidents are analyzed and countermeasures are discussed. This report contributes to improving risk management and accident prevention among customers.
Services in 14 Languages using Phone Interpretation
MSI, ADI and Mitsui Direct General provide services in 14 languages using a telephone interpretation service. The purpose of the service is to deliver high-quality services to customers who have difficulties in communicating in Japanese by improving the multilingual environment. The MS&AD Insurance Group, as a whole, will continue further improvement of customer service quality to bring safety and peace of mind to non-Japanese-speaking customers.
"Introduction of Accident Response" screen
Screen of "Information on Accident Response"
At Mitsui Direct General, "Information on Accident Response" contents have been provided on our Website about accident-response services to remove customer's anxieties and provide assurance. We have continued to expand the pages providing explanations on the flow of procedures from occurrence of accident to resolution and flow of Internet incident response services, and put effort into further improving the quality of contents while placing first priority on preserving peace of mind for customers involved in an accident. Furthermore, we also aim to provide peace of mind to even more customers through initiatives such as the dissemination of information through a section where staff from the "Anshin Center" speak about what they keep in mind when responding to accidents, and what they feel is rewarding about their jobs.
Claim Support Guide
Video screen
In order to inform the insurance claims procedures in an easy-to-understand manner, MSI Primary Life is taking the following steps:
(i) Placement on the website
MSI Primary Life has produced videos about the insurance claims procedures about which it receives many inquiries, and released them on its website. We provide explanations from the inquiries that we receive when family members of contracted customers first call to the payment of insurance claims, as well as samples of required documents and notification of completed procedures.
(ii) Insurance Claims Support Guide
When sending insurance claim forms, we enclose the "Insurance Claim Support Guide," which simply explains the flow of procedures. The "Insurance Claim Support Guide" has obtained from the Universal Communication Design Association the "Viable Design Certification," which is the certification standard not only for design and color design but also for the meaning of sentences and the convenience of use.
Provision of Recovery Services of Afflicted Facilities
MSI and ADI, in collaboration with BELFOR Group, the world's top class disaster recovery specialty company, have been providing high-quality recovery services for afflicted facilities(*).The recovery services of afflicted facilities provide "emergency treatment for corrosion inhibition", which inhibits progressive corrosion and rusting, and "full-scale recovery work", which is conducted by using specialty technologies of dismantling, precision cleaning, drying, reassembly and inspection, to "recover" the afflicted facilities to such status hitherto possible only with "replacement by new facilities", thereby shortening the recovery period dramatically and making "early" and "economical" recovery possible for restarting business. While corporate awareness of BCP (Business Continuity Plan) is rising in the wake of such natural calamities as earthquakes and typhoons, we intend to support our afflicted customers for early recovery by providing these afflicted facilities recovery services in support of BCP.
(*) MSI has been providing the service in 11 Asian countries in cooperation with BELFOR Asia. In addition, in cooperation with Recovery Pro, this service is provided in Japan to the customers of Comprehensive Corporate Property Insurance (called "Property Master"), Business Activity Comprehensive Insurance (called "Business Keeper"), Basic Fire Insurance, and the Business Cost/Comprehensive Profit Insurance.
ADI has provided the service in Japan in cooperation with Recovery Pro. This service is provided to all customers of the Comprehensive Corporate Property Insurance as well as the customers of the Business Activity Comprehensive Insurance (called "Tough Biz Business Activity Comprehensive Insurance").
Examination for Payments of Insurance Claims
MSI, ADI, Mitsui Direct General, and MSI Aioi Life examine cases that are determined to be ineligible for insurance claim, payments and cases where a customer filed complaints. As for the other cases that meet the certain criteria, the examinations are conducted by a board of review consisting of outside lawyers and experts.
At MSI and ADI, state of examination is disclosed at the company's website.
MSI and ADI share information via internal newsletters and take advantage of the access to extra information in enhancing service quality of damage support.
Growth with Our Agents
Scheme and System for Improvement of Agent Work Quality
At MSI, ADI, and MSI Aioi Life, the headquarters' department in charge of agent education has offered education policies and educational programs for the agents to gain knowledge for insurance sales such as compliance, products, office work/systems and sales skills. The educational programs are offered through Internet and collective trainings, while staffs in charge of education at sales departments promote attendance at sessions and support to raise levels of agent business skills.
Support for Improvement of Agent Work Skills
Providing an Online Learning Environment
MSI and ADI have a "College" that allows for the integrated management of insurance qualifications, group training attendance, and e-learning progress by participant. The e-learning contents are used by agents and canvassers (*), delivering preliminary learning for seminars and qualification acquisition on compliance, details of products, and other information, which leads to better solicitation quality. MSI, every month, delivers the "Agent Educational Program", a studying tool to enable an agent to develop and educate solicitation staff independently.
By distributing Good Practice News and quarterly journals on the Internet, ADI introduces information and tools useful for solicitation activities by agents and canvassers.
MSI Aioi Life provide e-learning contents (compliance, approach to providing protection and coverage, products, etc.), and periodically disseminates various videos about the fundamentals, products, sales methods, and other information related to life insurance through the "MSA On-demand Lite" service.
(*) Permanently-hired employees and trainees engaged in solicitation
Training in Response to the Needs of Agents
A scene of training
To fulfill diversifying customer needs and to improve the consulting capability in response to the changes in the market, MSI Primary Life is enhancing various training programs and supporting sales systems of agents.
As a part of the training course that provides support for "customer-oriented business operations" practiced by dealers, a new training course on "customer-oriented interviewing skills" was developed in FY2017 in addition to the "consulting sales training" and "training on the correct method of insurance solicitation" courses.
From the basics of interviewing to practical skills aimed at sharing the customer's feelings, this new training course helps agents to master the three steps of interviewing skills: listening, hearing, and asking.
In addition, we also provide "Training to Promote the Active Participation of Women" for women not only to learn the knowledge and skills for working proactively and vigorously but also to plan a well-balanced career design and way of work according to one's own environment and situation.
The purpose of maximizing the training effect is to promote active learning type training styles, and to introduce the latest learning devices such as tablet PCs, which enables two-way communications between lecturers and trainees.
Feedback of Customer's Voices (Complaints and Compliments)
MSI, ADI, and MSI Aioi Life facilitate implementation and use of "the Customer's Voice Management System," have agents themselves analyze customer's opinions, lead them to operational improvement and carry on activities to be a customer-preferred agent. In addition, they develop a system to feed back the customers' opinions collected through "Questionnaires to Customers" to their agents and share the statistics and analysis results at agents' regular meetings and training to reflect them in operational improvement.
By making use of these mechanisms and taking the valuable opinions provided by customers seriously, it seeks to clarify problems from the customer's perspective and formulate response measures, so as to improve the quality of agent operations.
Framework to Secure Quality in Agent Work
Basic Perspective
MSI, ADI and MSI Aioi Life offer support to enhance the quality of agents which serve customers and have scheme to inspect their business conduct in order to deliver high-quality products and services to customers of all types.
Agent Quality Certification System
MSI, ADI, and MSI Aioi Life have established a systematic operation process (*) related to the solicitation of clients for agents to surely follow so that all customers can afford insurance with confidence.
(*) This has been named the "Fundamental Insurance Cycle" in MSI, and the "AD Quality Standards" in ADI, and the "Recruitment Activity Cycle" in MSI Aioi Life.
In addition, MSI, ADI, and MSI Aioi Life each created the Agent Quality Accreditation System to secure Quality in recruitment of insurance and response to accidents in collaboration with agents.
Communication with Agents
Regular Training and Seminar
MSI, ADI, and MSI Aioi Life hold collective training sessions regularly held for agents in order to strengthen mutual communication and help improve their quality effectively and efficiently. The head office division supplies training tools every month based on themes such as the revision of product and administrative systems, and initiatives that harness feedback from customers, while training sessions are conducted by the sales section branch offices.
Cooperation with Organization of Agents
MSI, ADI, and MSI Aioi Life are supporting mutually enhanced information exchange between the company and its agents through the agent organization, so that communication is activated and services of higher quality are offered to customers.
Each agent organization through its operations works on the development of a system and the enhancement of growth potential of member agents and local and social contribution activities aiming to deliver high-quality services and the best insurance products to customers.
Management Support for Agents
The number of agents has been increasing in size, creating the need for a higher level of managerial skills. In providing support to agents, therefore, greater specialization, objectivity, and medium- to long-term perspectives have become important.
To this end, MSI and ADI deploy dedicated staffs with expertise in support for agents, covering areas from management and systems to individual operational issues. The companies make efforts to improve and expand the management foundation and quality of agents through various supports by such staff including trainings, seminars and individual meetings.