The MS&AD Insurance Group always consider sustainability in terms of the environment, society, and governance (ESG) issues in all Group business activities, including the development of products and services, underwriting and investments.
ESG-related impacts include infringements of human rights that threaten respect for basic human rights, deforestation due to illegal logging, and corruption and bribery that undermine economic growth and stability. Our company's business activities could influence ESG factors, and our company itself could be influenced by ESG factors. While we respond to such ESG-related risks to ourselves, we have been discovering business opportunities in addressing ESG concerns, e.g. offering automotive insurance with driving protection services to support safe driving, and thereby, reduce accidents, and using Big Data to present preventative measures against natural disaster. It is essential that we carefully assess ESG-related risks and opportunities, and reflect them in our business activities. We recognize the wide-ranging ESG risks such as legal risks, reputational risks, quality-related risks, business continuity risks, operational risks, transition risks, financial risks, etc., and these could potentially have a major impact on our company's business activities and our stakeholders. Accordingly, we carefully identify such ESG-related risks to control them across our entire business activities.
We give an overview of these approaches in our "Perspective of Sustainability of the MS&AD Insurance Group" that describes our policies on addressing ESG concerns.
In May 2019, we committed that it would consider sustainability in all of our business activities in line with our ESG policy "Business Activities with Consideration".
[ESG Guideline]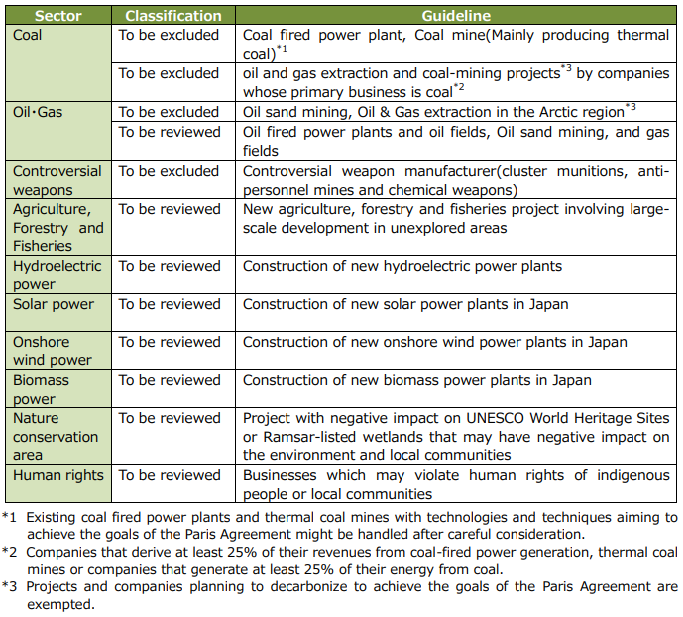 [Process for Underwriting]
In underwriting insurance, we have established an escalation process for projects that are considered to be in compliance with the Group's policies, but are deemed to have high sustainability risks (ESG risks). Since September 2020, we have reported such transactions to the Group Sustainability Committee based on the judgment of the senior management of the responsible sections for ESG. When formulating and revising policies, we hold dialogues with our company's client companies and share an understanding of the need for initiatives to move toward decarbonization.
*For the investment and financing process, please refer to "Investment and financing considering ESG issues" and "ESG evaluation process" below.

The MS&AD Insurance Group has been seeking out what are the best practices for financial institutions that take into account environmental and social sustainability, and it has been participating in the United Nations Environment Programme Finance Initiative (UNEP FI) to disseminate and promote these best practices.
Our company has signed on to the Principles for Sustainable Insurance (PSI) and the Principles for Responsible Investment (PRI) published by UNEP FI, and we have been disclosing details on our initiatives and reporting on the progress made every year. We are also taking part in a PSI pilot project in which representatives from insurance companies meet to discuss the industry's approaches to the TCFD Final Recommendations and also working on disclosing information on climate change risks.
In addition, in considering ESG, as an external standard and a source, our screening approach standard includes: UN Global Compact, UN Declaration of Human Rights, Guiding Principles for Corporate and Human Rights, International Labor Organization Standard, UN Anti-Corruption It will be notified by the Convention and the OECD Guidelines for Multinational Enterprises.

The MS&AD Insurance Group has underwriting criteria adapted for respective product and service as part of risk assessment process. In each process, certain ESG criteria are considered such as natural catastrophe risks, involvement with anti-social forces or ethical risks, based on the nature of the risk. Comprehensive process including system verification are properly implemented. Underwriting decision including the Board's approval are made based on these risk evaluations.
In association with underwriting products and services, we discuss general policy to handle ESG risks at the Sustainability Committee, and we evaluate and manage individual ESG risk at the Risk Management Committee. Both committees shall report their decisions and conclusions to the Board of Directors.
In developing products and services, we examine the value to society and the value for our company generated by our products and services from various angles, and we strive to create value shared with society in providing these products and services. We have also developed a variety of sustainable products and services such as insurance or risk consulting services that support renewable energy projects, discounts to drivers who take a safe driving lecture aiming at reducing traffic accidents, and automotive insurance policies that allow the same-sex partner to be beneficiaries to support diversity.
In underwriting these products and services, all employees and agencies deepen their understanding of sustainability issues, including ESG risks, through trainings and other means, and to promote initiatives to realize a resilient and sustainable society with customers through dialogue.
Additionally, in reviewing factors to be considered, we have referred to the UN Global Compact, the Universal Declaration of Human Rights, the Guiding Principles on Business and Human Rights, the International Labour Organization Standards, the UN Convention against Corruption, and the OECD Guidelines for Multinational Enterprises.
As a signatory to the Principles for Responsible Investment (PRI), the MS&AD Insurance Group takes ESG issues into account for investments.
Specifically, we incorporate ESG factors into responsible investment process and promote ESG-thematic investments on the basis of profitability.
In addition, MSI and ADI declared their acceptance of Japan's Stewardship Code, and have since engaged in constructive dialogues encompassing ESG issues with investee companies, to encourage them to take appropriate actions to increase medium-term corporate value by raising their awareness over ESG.
Operating Scheme
Sample ESG investment methodologies as by our company
In managing assets, we have a process in which ESG factors are assessed when making investments and providing loans. For example, we have integrated ESG risk assessments into their investment approach by performing ESG screenings on domestic shares, and when executing corporate loans inspecting their customers' ESG strategy and disclosures.
In the context of stewardship activities, many dialogues have taken place with a focus on non-financial factors including ESG concerns. Since FY2017, we have started to engage in more in-depth dialogues with the investees on ESG-related risks and shaping our approaches in line with the Guidance for Collaborative Value Creation provided by the Ministry of Economy, Trade and Industry.
Additionally, in reviewing the process, we have referred to the UN Global Compact, the Universal Declaration of Human Rights, the Guiding Principles on Business and Human Rights, the International Labour Organization Standards, the UN Convention against Corruption, and the OECD Guidelines for Multinational Enterprises.
From the perspective of fulfilling their social responsibility as institutional investors, MSI and ADI have announced their support for Japan's Stewardship Code, a code of behavior laid out for institutional investors. In line with the Code, we carry out a constructive dialogue with investee companies to encourage them to enhance their medium- and long-term value and sustainable growth, and, through the dialogue, we focus on understanding their management issues, their shareholder return policy, ESG, and other non-financial information. From July, 2019 to June, 2020, MSI and ADI conducted constructive "purposeful dialogue" with a total of 347 firms.
Investing methods that assess corporate sustainability from the standpoint of Environmental, Social and Corporate Governance (ESG) are spreading. The MS&AD Insurance Group utilizes the assessments provided by major ESG evaluation organizations to improve its efforts. As of December 2021, the Company is a constituent of the following ESG indices:
* THE INCLUSION OF The MS&AD Insurance Group IN ANY MSCI INDEXES, AND THE USE OF MSCI LOGOS, TRADEMARKS, SERVICE MARKS OR INDEX NAMES HEREIN, DO NOT CONSTITUTE A SPONSORSHIP, ENDORSEMENT OR PROMOTION OF The MS&AD Insurance Group BY MSCI OR ANY OF ITS AFFILIATES. THE MSCI INDEXES ARE THE EXCLUSIVE PROPERTY OF MSCI. MSCI AND THE MSCI INDEX NAMES AND LOGOS ARE TRADEMARKS OR SERVICE MARKS OF MSCI OR ITS AFFILIATES.