Under our medium-term management plan, "Vision 2021," we have committed to building a management foundation that enables all employees to play an active role as a way of supporting our "story of value creation." Human assets are the source of the Group's comprehensive strengths and competitiveness. By enabling diverse human assets to exercise their individual abilities to the full and promoting digital transformation (DX), we will generate innovation that leads to the resolution of social issues and thereby realize sustainable growth for the Group.

To address the diverse risks accompanying social change and create shared value through resolution of issues, individual employees need to embrace diversity. To realize sustainable growth at the same time, it is essential to generate innovation, for which the driving force is fusion of knowledge. We will resolve social issues by creating innovation through the encounter between diverse abilities, experiences, and ways of thinking.
Creation of forums for active generation of diverse ideas
We organize "e-business seminars" — small-group online seminars presented by holding company directors and officers. This is an experiment in creating forums for active generation of ideas and creating a structure of supportive processes and methods.
Unconscious bias training
We conduct "Diversity & Inclusion Officers' Training" for Executive Officers and Directors and "Management Training" for managerial positions, in which managers become aware of their unconscious bias and learn how to control it.
Promoting the career development of women
By the end of fiscal 2030, we aim at achieving the targets of 30% for the Group's female manager ratio and 15% for the female line manager ratio.
Human rights training
In February 2017, we formulated a Group Basic Human Rights Policy. To fulfill our corporate responsibility of ensuring respect for human rights, we are conducting workplace training under the common theme of "Let's raise awareness of human rights from familiar workplaces."
To implement the Group growth strategy, we engage in a wide range of human asset development programs in Japan and overseas. We also support independent self-education to empower the individual and enable employees to realize their particular career vision. The growth of individual employees feeds back into the organization and the organization likewise supports the individual in a process that increases engagement.
Aspirations for human asset development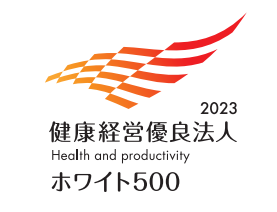 ≪ Data Scientists ≫
Seeing an opportunity in every challenge in changing times
Data scientists discover actionable insights from data on social issues to provide solutions through data analysis. Generally, data scientists are required to master in technical skills, such as programming, math and statistics. In addition, we need to improve communication and presentation skills to better understand and collaborate with other people. Furthermore, I brush up my language skills to communicate with business partners and get broader access to information globally. There are many things to learn, and it surely is hard to put them into practice, however, the Data Solution Section has a place for knowledge sharing as lessons learned from everyone. This helps me to reorganize what I learned.
In recent years, the demand for data utilization has been growing in every business sector while new challenges are emerging. In response, data analysis is evolving day by day, therefore I assume what data scientists can contribute is expanding. Likewise, Aioi Nissay Dowa Insurance employs the data-driven approach and focuses on developing products and services using the data, such as telematics insurance. The Data Solution Section is innovative and challenging. This is why I am passionate about my job.
Global human assets
Possessing a network covering 50 countries and regions, the Group employees at its overseas bases number approximately 9,000 people. To train specialists equipped with an abundance of cosmopolitan sense and expertise, the Group has created systems to promote mutual exchanges between Japan and its various locations throughout the world.
For the MS&AD Insurance Group to achieve global growth, a work environment is needed in which individual employees are empowered to participate actively and maintain high work productivity. Through the practice of health management and work style reforms, we are working to create a workplace that takes health and safety into consideration and allows employees to maintain and improve their physical and mental health so that they can continue to work with a sense of motivation and satisfaction.
Speak-up system
For matters that are difficult to resolve in the workplace — violations of laws and regulations, violations of internal regulation, or behavior considered inappropriate — we have put in place a system for reports and consultations.

Work-style reform
Since fiscal 2016, we have been progressing with the work-style reform, reducing working hours, and working to improve productivity by practicing the management which enables each employee to enhance their expertise and make the most of their diverse abilities.
Employee awareness survey*
A Group employee awareness survey is conducted every year as a form of fixed-point observation and is used as feedback for improvement of corporate systems, policy measures, and workplace environments. From fiscal 2019, a similar survey has been rolled out to overseas staff.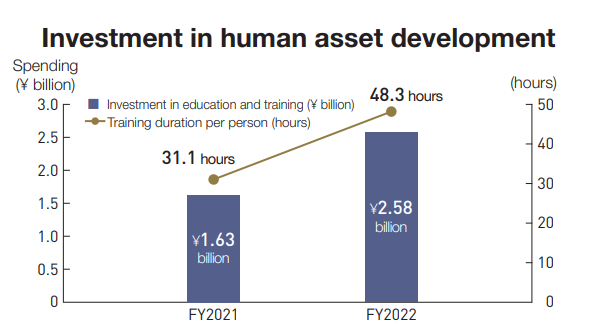 Topics
Amid the COVID-19 pandemic, many employees are working from home or working remotely using digital tools. We are also adopting a shift working system, which allows employees to change their working hours per day, as well as a paid leave system on an hourly basis. We will continue to promote flexible work styles that optimize the use of time and place.
For more detailed information regarding D&I, please see the Company's "D&I Promotion Report" on the official website.
(Japanese only)