In the MS&AD Insurance Group's medium-term
management plan "Vision 2021," which started in
fiscal 2018, we set out management platforms that
enable employees to play active roles as a system
to support our "Story of Value Creation." Human
assets are the source of the Group's comprehensive
strengths and competitiveness. We will feed through
the active participation of diverse human assets to
the sustainable growth of the Group. They will
create innovations that lead to the resolution of
social issues and the realization of our mission.
*With the idea that each member of the MS&AD Insurance Group is
valued, we use the term "human assets" instead of "human resources."
To create an environment in which all employees are able to maximize their abilities and work with vitality, given their various backgrounds, individuality and sense of values, we are making even greater efforts toward diversity and inclusion (D&I) based on a framework that unites the Company and the Group's domestic insurance companies.
To ensure the diversity of decision-making layers,
we will create a system to continuously bring female directors on board.
Naomi Motojima
Executive Officer in charge of
Diversity & Inclusion
We established a framework to promote D&I within the Group in fiscal 2018, and we have been making organization-wide efforts to achieve this. These have been bearing fruit, little by little. Currently, our top priority is to see that a certain proportion of decision makers are women. First of all, it is important to clarify our goals. We have set a goal for 15% or higher of management positions (at domestic Group companies) to be filled by women in fiscal 2020, and we have set a goal of having the ratio of females on the Board of Directors, including auditors at the holding company, of 30% or higher by fiscal 2025. Mitsui Sumitomo Insurance and Aioi Nissay Dowa Insurance also aim to increase the ratio to at least 10% by 2030. To achieve these goals, we must develop a system to continuously cultivate female director candidates. We have established the "Association of Female General Managers" with about 50 members from each Group company to provide joint training with female managers from other companies, which includes activities such as learning about overcoming unconscious bias. In addition, we have been appointing some members as non-executive directors to affiliated companies to enable them to gain experience in decision-making at the management level. Looking ahead, we intend to strengthen communication with young employees and utilize the values of the younger generation in management. Furthermore, we will take on the challenge of enabling each employee to have flexibility and a wide range of value perceptions through initiatives such as establishing structures for male employees to take childcare leave for a certain period.
Women in management positions
Having established a goal for 15% of management positions (at domestic Group companies) to be filled by women in fiscal 2020, we have been conducting ongoing training and other activities that foster enhanced skills and a consciousness of career advancement so that women will be able to perform in management positions. As a result, there were 944 women in management (manager position and above) as of April 1, 2020, with a women-in-management ratio of 14.8%. This is increasing steadily every year.
Female directors
In May 2019, the Group's CEO joined "30% Club Japan," the Japanese chapter of the worldwide campaign to increase the representation of female board members. Believing that gender diversity is an urgent business issue that companies must address, and that diversity in decision-making is vital, the Group is making efforts to nurture female directors within it.
Strengthen Group-wide efforts to give full play to the power of diversity
The "Association of Female General Managers" provides opportunities for female managers to learn and interact. In the joint training with female managers from other companies, which is part of the curriculum, we learned about how important it is to recognize and control unconscious bias and how to apply it in our work. I continue to interact with the members of the group I was in at the training. We exchange advice about human asset development and organizational revitalization. The network of female managers is a reassuring ally, and I would like us to continue to support each other and help each other grow.
In October 2019, I became a non-executive director of an affiliated company, MS&AD Business Service Co., Ltd. Through participation in Board of Directors meetings and various committees, I have been learning about corporate management decision-making and Group collaboration. I was worried about taking on such a responsible position, but I realized that there are some things that I could only see from that standpoint. I believe that the efforts of our female managers will be expanded from point to point through the "Association of Female General Managers" and other initiatives, leading to the display of even more diverse abilities. I would like to apply these valuable experiences to take on further challenges and grow.
Changing the mind-set of directors and management
MS&AD has conducted D&I training for Group directors so that they could deepen their understanding of unconscious bias. As an initiative to change the mind-set of those in management-level positions, management training and e-learning are implemented to foster an understanding of unconscious bias and to learn methods to proactively recognize and control one's own bias. Moreover, to raise the effectiveness of diversity at the management level, D&I factors have been incorporated into the directors' and managers' evaluation processes.
Employment of people with disabilities
In June 2018, we established a subsidiary, MS&AD ABILITYWORKS Co., Ltd., to promote the employment and active participation of people with disabilities. This company develops businesses that utilizes the many individual talents of employees who possess richly distinct characters and seeks to provide a workplace where employees will be satisfied. Group companies are also promoting the hiring of para-athletes (sports athletes with disabilities) and providing support for their activities as athletes.
Number and ratio of domestic employees with disabilities in fiscal 2019*
| Ratio of domestic employees with disabilities | Number of employees with disabilities |
| --- | --- |
*The five domestic Group insurance companies and the holding company (as of June 1, 2020).
A checkmark indicates that fiscal 2019 figur es have been assured by KPMG AZSA Sustainability Co., Ltd.
Employment of the elderly
We have established a system for re-employing retired employees to make the most of their experience and skills and offer opportunities to fully engage their abilities. We can refine the system depending on business needs and the work content of the individual, and we employ people up to the age of 65.
Regarding the development of human assets that influence the overall strength and competitiveness of the Group, we provide opportunities for employees to acquire skills and overseas experience that are essential to the Group's growth strategy. In doing so, we aim to help each individual shift to higher-value-added work that meets the highest standards of professionalism.
Digital-savvy human assets
To nurture digitally aware human assets and enhance the skills that employees need to better utilize digital technology, we are developing an educational program as a foundation to promote digitalization, in collaboration with universities and other educational institutions. We have established an online training program, "MS&AD Digital College from Kyoto,"
jointly developed with the Kyoto University of Advanced Science, and a training program, "MS Digital Academy," developed in partnership with Toyo University's Faculty of Information Networking for Innovation and Design (INIAD). We are using the knowledge gained in the training to create business models and develop innovative products and services.
≪ Data Scientists ≫
Seeing an opportunity in every challenge in changing times
Data scientists discover actionable insights from data on social issues to provide solutions through data analysis. Generally, data scientists are required to master in technical skills, such as programming, math and statistics. In addition, we need to improve communication and presentation skills to better understand and collaborate with other people. Furthermore, I brush up my language skills to communicate with business partners and get broader access to information globally. There are many things to learn, and it surely is hard to put them into practice, however, the Data Solution Section has a place for knowledge sharing as lessons learned from everyone. This helps me to reorganize what I learned.
In recent years, the demand for data utilization has been growing in every business sector while new challenges are emerging. In response, data analysis is evolving day by day, therefore I assume what data scientists can contribute is expanding. Likewise, Aioi Nissay Dowa Insurance employs the data-driven approach and focuses on developing products and services using the data, such as telematics insurance. The Data Solution Section is innovative and challenging. This is why I am passionate about my job.
≪MS&AD Garage Program ≫
Resolving business issues using cutting-edge technologies from Silicon Valley
At Mitsui Sumitomo Primary Life, we are working to reform our business processes and strengthen our competitiveness by promoting digitalization. At the same time, we are promoting the creation of new business ideas utilizing digital technology through workshops centered on young employees. In August 2019, I participated in the "MS&AD Garage
Program*" in Silicon Valley, which aims to bring in the latest technologies for problem-solving. Silicon Valley has gathered an abundance of entrepreneurs and venture capital for solving business problems with new technologies and business models, and MS&AD Ventures, as CVC, is active in this ecosystem. I have had the opportunity to meet with many people involved in start-ups. During my one-month stay in Silicon Valley, I was able to look at presentations by about 160 companies. I think I acquired the habit of thinking about the essenc e of issues from a different perspective than before. I believe access to wide-ranging IT technologies helped me develop the ability to select technologies in terms of how they can be utilized within the company and how the company should apply them now. The technologies brought back are being verified to realize our initiatives such as supporting the activities of our sales staff, improving customer service by using AI, and so on.
*The MS&AD Garage Program is a program under which employees of Group companies in Japan and overseas visit Silicon Valley, which is a base for many investors and venture companies, to support the discovery of advanced technologies and new services that can solve business problems (= "pain points") that cannot be solved in their own countries.
Actuaries
We are strengthening the development of mathematical professionals with specialized skills for making full use of techniques such as probability and statistics in product development, risk management and other processes. We hold training camps in which participants receive direct guidance from employees with actuarial qualifications. With new graduate recruitment, we have also established specialist courses for actuaries. Students can participate in a four-day internship program where they can experience the work of actuaries for non-life insurance.
| FY2016 | FY2017 | FY2018 | FY2019 |
| --- | --- | --- | --- |
*As of April 1 of each subsequent year.
Global human assets
Possessing a network covering 50 countries and regions, the Group employees at its overseas bases number approximately 9,000 people. To train specialists equipped with an abundance of cosmopolitan sense and expertise, the Group has created systems to promote mutual exchanges between Japan and its various locations throughout the world.
System for
training overseas
Secondment
system

Training system for studying international business skills, languages, etc., at overseas subsidiaries, local insurance companies and universities
Secondment system to obtain an MBA Number of employees who participated in the system in fiscal 2019: 48
Global trainee
system

Headquarters employees are given work experience at overseas bases, and employees of overseas bases can gain work experience in Japan for short periods.
Number of employees who participated in the system in fiscal 2019: 85 headquarters employees and 46 overseas employees
Headquarters
postings for
overseas-based
local employees

A system for temporarily posting overseas local employees to the headquarters in Japan.
In fiscal 2019, there were eight such employees who engaged in business in Japan.
Topics
We have a leave system that supports employees who study at universities or graduate schools at their own expense for self-development. We aim to foster an organizational culture in which each employee can feel motivated and satisfied in their work by drawing up a career vision and continuing to grow and play an active role through self-improvement and taking on new challenges.
We aim to create a workplace that considers health and safety so that each and every employee can maintain and promote physical and mental health. We are also strengthening our efforts to prevent mental and physical disorders in our employees by establishing a speak-up system (Internal Reporting System) that allows employees to report and consult about violations of laws and regulations, internal regulations, and actions deemed inappropriate, which are difficult to resolve in the workplace or report to the department in charge. We are reinforcing structures to prevent harm to physical and mental health. We have established the speak-up system (whistleblower system) to receive reports and provide consultations for behavior that contravenes laws, our own internal regulations or might be regarded as inappropriate that is difficult to resolve at the workplace or is hard to report to the responsible business unit.
Work-Style Reform
Since fiscal 2016, we have been promoting work-style reform reducing working hours through initiatives such as "leaving work before 7 p.m. as a general rule," "promoting the taking of vacation days" and "enhancing business efficiency," and we are also endeavoring to improve productivity by executing management functions that work to raise the expertise of each and every employee and that utilize their diverse abilities. In addition, we have put in place various systems that enable employees to work healthily and energetically while achieving a balance between work and life and realizing their job satisfaction and growth. For example, we are working to create an environment in which employees can continue to work, and to expand support measures, such as a system that enables employees, who are to work in the same area without getting transferred, to work at another location for certain reasons, and a system that allows former employees to return to the Group after their retirement due to a life event. We will also encourage employees to take vacations and enrich their lifestyles during the created time.
Days of paid vacationused per employee/year*
| FY2016 | FY2017 | FY2018 | FY2019 |
| --- | --- | --- | --- |
*Average number of vacation days acquired by all employees with respect to "regular/carryover vacation days" and "special vacation days."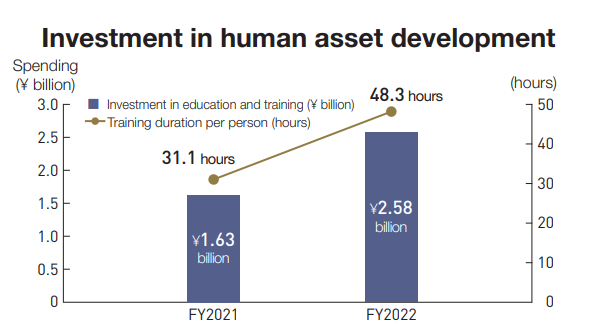 Topics
Amid the COVID-19 pandemic, many employees are working from home or working remotely using digital tools. We are also adopting a shift working system, which allows employees to change their working hours per day, as well as a paid leave system on an hourly basis. We will continue to promote flexible work styles that optimize the use of time and place.
For more detailed information regarding D&I, please see the Company's "D&I Promotion Report" on the official website.
(Japanese only)