The MS&AD Insurance Group is convinced that providing all employees with opportunities to grow through work and to demonstrate their capabilities will result in greater corporate competitiveness. Creating management platforms that enable employees to play active roles, a business infrastructure needed for employees to take on dynamic roles, in addition to the use of diversity & inclusion key performance indicators (KPIs) to set numerical management targets, has been positioned as a priority in the Vision 2021 Medium-term Management Plan, and we are moving ahead with efforts to make this the source of the Group's comprehensive capabilities.

Our Group issues a D&I Promotion Report and makes it publicly available on our official website. This report presents the directions the Group has taken toward D&I, the projects being pursued by Group companies toward their common goals, and introduces specific D&I measures being implemented at individual Group companies.
<Content of the Diversity & Inclusion (D&I) Promotion Report>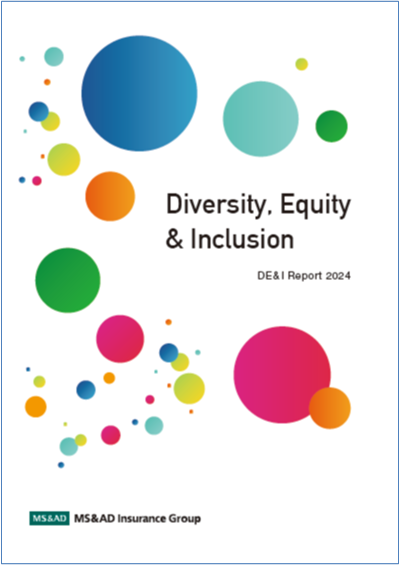 ・Message from Group CEO
・D&I Promotion by the MS&AD Group
・Current Group Figures
・Target Numbers
・Initiatives and Systems for Promoting Career Development for Women
・Career Development for Global Human Assets
・Career Development for People with Disabilities, LGBTQ Support,
 and Career Development for Seniors
・Development for Seniors
・Work-life Balance(Systems and Initiatives to Help Employees Keep
 Working)
・Establishing Environments for Promoting D&I
・Message from the Executive Officer
Systems and Initiatives to Enable Continued Work
The MS&AD Group has systems that enable employees to balance work and life while feeling fulfillment and growth as they enjoy their work healthy.
In order to prevent employees from giving up their careers or choosing to retire due to life events such as childbirth, childcare, and nursing care, we have enhanced systems that meet the wide needs of each life stage. Our maternity leave, childcare leave, childcare time, sick/injured childcare leave and nursing care leave are all more than legally required.
<Main Initiatives>

To achieve more diversity among decision-makers, along with setting new targets for the ratio of female line managers in the Group, we have set new targets for the ratio of female directors by 2030. We have also raised the target for the ratio of female managers, since we have achieved the former target. Going forward, we will continue to work on diversity and inclusion at new stage in order to achieve the newly set goals.
| | | | |
| --- | --- | --- | --- |
| Target Year | Aimed at | Target Ratio | New or Raised Target |
| End of fiscal 2030 | Directors, auditors, and executives (non-consolidated) | 30% or more | New |
| End of fiscal 2025 | Directors and auditors (non-consolidated) | 30% or more | |
| End of fiscal 2030 | Female line managers (Group domestic) | 15% | New |
| End of fiscal 2030 | Female managers (Group domestic) | 30% | Raised |

We have been striving to realize an inclusive society in which a variety of people can play active parts by supporting Paralympic sports. Initiatives taken thus far include fostering and supporting athletes who are actively engaged in competitions, co-sponsoring Paralympic sports organizations, and attending competitions around Japan to cheer on the participants. In this context, we have been employing abled and people with disabilities athletes, many of whom take part in the Olympics, Paralympics, Deaflympics, world championships, and other international competitions in order to create an environment in which people are able to dedicate themselves to both work and sports.