Group Management Based on ERM
The function of ERM (Enterprise Risk Management) is to control the balance among three key management indicators: profit (return), risk and capital. The MS&AD Insurance Group positioned ERM as a driver in the previous medium-term management plan, "Next Challenge 2017," establishing a platform for Group management.
Under the current medium-term management plan "Vision 2021," MS&AD is pushing forward with initiatives to improve profitability and capital efficiency, while ensuring soundness, and base Group management on the ERM cycle.
Function and Role of ERM
When pursuing profits through risk-taking, ERM considers opportunities with high ROR (Return on Risk) or means of increasing ROR and seeks to achieve the target return on equity (ROE) while maintaining the soundness of capital(ESR1). The relationship between these three is outlined in the following figure.
1. ESR: Economic Solvency Ratio (economic value-based solvency ratio) = NAV/Integrated risk amount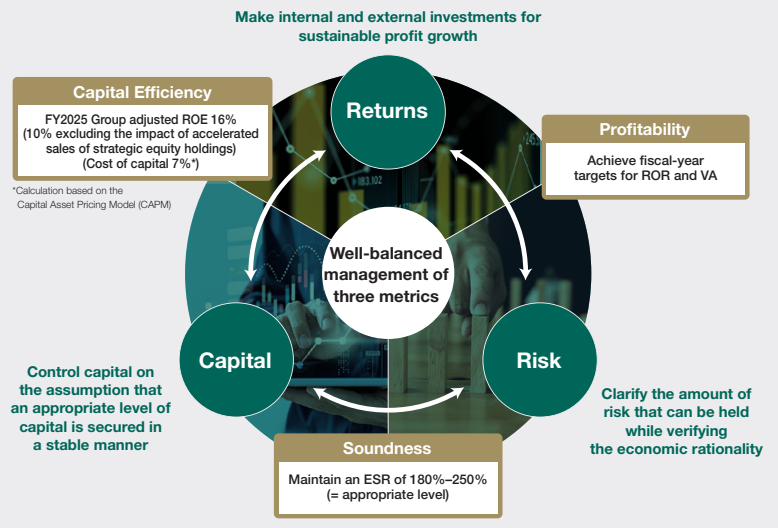 Indicators Emphasized in ERM
ESR (Economic Solvency Ratio)
ESR is an indicator of capital adequacy with respect to the risk amount.
_____________________________________
Risk amount is calculated based on the statistical quantification of risks of losses and price fluctuations associated with businesses and asset portfolios, and the integrated risk amount represents the total amount of risk assumed by the Group as a whole. The Group uses a recurrence interval of 200 years for the maximum foreseeable loss (in other words, losses will not exceed this value for 199 out of 200 years).
ROR (Return on Risk)
To assume risk, it is necessary to secure the capital that balances that risk. Consequently, in business where ROR is high (in other words, business where profit is large relative to the risk assumed), the profit that can be earned is large relative to the capital necessary.
VA (Value Added)
Value Added (VA) indicates how much value can be generated with respect to the risks assumed.
_____________________________________
While ROR (Return on Risk) indicates the rate of return that can be obtained with respect to the risks assumed, VA is an indicator of absolute value.
ERM and Risk Management
The MS&AD Insurance Group formulates management plans in accordance with the Group Risk Appetite Statement with the aim of improving profitability and enhancing capital efficiency while ensuring soundness based on the ERM cycle. Capital is allocated in accordance with the ERM cycle and the risks assumed, and by monitoring return on risk (ROR)* for the risks assumed we take steps to strengthen our risk controls and underwriting.
*ROR = Group Adjusted Profit/Integrated risk amount
ERM is implemented through the planning, execution and monitoring phases.
Initiatives to Improve ROR
Trends in ROR, which is an indicator of the profits that can be earned on risks assumed, are a proxy for the earnings power of the Group's risk portfolio. The MS&AD Insurance Group is working to improve ROR based on the ERM cycle and aims to achieve Group Adjusted ROE of 10% in fiscal 2021.
The MS&AD Group has established the MS&AD Insurance Group Risk Management Basic Policy, which underpins the common risk management exercised throughout the Group. Specifically, the policy identifies the principal types of risk with an impact on the Group's business portfolio, stipulates how risk factors are to be evaluated both quantitatively and qualitatively, and promotes risk management based on those evaluations.
・Risk Management Basic Policy
・Risk Management Structure
・Insurance Business Risks
・Risk Management in International Business
・Crisis Management System (Including Business Continuity Management System)
Specifying Risks
The Group specifies material risks that affect management as follows in fiscal 2019.
Group Material Risks
The Group identifies material risks to be controlled by management, formulates a Management Action Plan and regularly monitors the status with respect to individual risk.

Group Emerging Risks
Group Emerging Risks are defined as events that could affect the Group business from a medium- to longer-term perspective and events that could affect the Group business that management should be aware of but are difficult to measure in terms of scale and timing. We regularly monitor Group Emerging Risks.
Declining Birthrate and Aging Population
The domestic insurance market will contract as the birthrate declines and the population ages, but growth in the elderly population and longer life spans have created new needs for insurance. The Group is continuously developing new products and services that support people's health and longevity that include providing "Tontine Annuities," adding guarantees for dementia nursing care and launching "whole life nursing/dementia plans" that sufficiently address anxiety over nursing care. We are undertaking key measures to address the risks associated with falling birthrates in Japan through reforms of our business portfolio that involve strengthening our international business and geographical/business diversification.
Environmental Damage
Insurance companies might have to pay out insurance claims based on underwriting provisions as companies claim massive amounts of compensation for the environmental damage they have caused by pollution and/or significant environmental burdens. Amid progressive climate change and natural resource depletion, it looks like concerns are deepening and risks are rising regarding such phenomena within society. The MS&AD Insurance Group is working to provide appropriate insurance underwriting and reinsurance while monitoring trends in global social concerns and legal regulations that address the causes of environmental pollution and burdens and focusing on the provision of risk consulting services related to environmental damage from business activities.
Strengthening Natural Disaster Risk Management
In 2018, several major natural disasters occurred in Japan and overseas. In Japan, the number of accident claims received Group-wide was 520,000, which far exceeds the Great East Japan Earthquake. Overseas, there was a significant amount of natural catastrophe losses, such as those caused by hurricanes in the United States and the California wildfires.
The MS&AD Insurance Group has built a system able to ensure the soundness of the entire Group by performing stress tests versus large-scale insured losses caused by earthquakes as well as hurricanes in the United States, while securing the necessary capital based on risk criteria that uses event probability of once in 200 years. In fiscal 2018, the Group was able to reliably sustain
operations while maintaining a proper level of financial soundness.
Recently, however, the scale and frequency of natural disasters, such as major hurricanes and typhoons, have been increasing. Under these circumstances, the Group intends to advance the level of its natural catastrophe risk management by refining methods for measuring risks
related to windstorms and floods in the United States, enhancing stress tests, and promoting research and assessments of natural catastrophe risks in Asia.
Controlling the Retained Amount of Natural Catastrophe Risk
While the amount of natural catastrophe damage in Japan reached a record high, we covered this loss using reinsurance as a means of recovering insurance money as well as catastrophe reserves that are accumulated each period to cover large-scale insurance payments like those seen recently. Throughout the Group, we redoubled our efforts to control the retained amount of natural catastro-phe risk while implementing and enhancing measures to mitigate risks of earnings fluctuations during the period.
Specifically, we
1) Lower the natural catastrophe retention on a Group-wide basis
・Lower the natural catastrophe retention including that for windstorm and floods in the United States
・Further enhance the profitability of the reinsurance business
2) Reduce the risk of profit fluctuations
・By enhancing the respective existing reinsurance coverage of Mitsui Sumitomo Insurance and Aioi Nissay Dowa Insurance for domestic natural catastro-
phes and creating joint reinsurance treaty coverage shared by the two companies that covers annual aggregate losses, the Group reduces the losses on a once-in-10-years basis by around 20% year on year, decreasing the risk of profit fluctuation.
Cyber Risk Initiatives
We have developed a Group-wide platform to address cyber risks, which are a common challenge within the Group.
______________________________________________________________________________
MS&AD InterRisk Research & Consulting, Mitsui Sumitomo Insurance and Aioi Nissay Dowa Insurance closely cooperate to provide comprehensive risk consulting/diagnostic services to corporate customers.
______________________________________________________________________________
We launched a multifaceted risk assessment service in cooperation with Verizon Japan and BitSight Technologies. (July 2018)
We launched an intelligence information provision service (IntSights) in cooperation with the American company IntSights Cyber Intelligence (July 2018)
・Gather and analyze online data using a proprietary algorithm and machine learning
・Provide monthly reports on intelligence information