ERM-based Group Management
The MS&AD Group endeavors to increase its earnings power and capital efficiency while maintaining financial soundness. Toward this end, it practices Group management based on an enterprise risk management (ERM) cycle. It allocates capital to its businesses in accord with its Group Risk Appetite Statement. Its businesses take risks with the allocated capital. The Group exercises appropriate risk control, through monitoring of return on risk (ROR) and other metrics. In FY2021, the Group will upgrade its business, product assessment and management processes and further revamp its portfolios to better balance capital, risk and returns. This program will be spearheaded by the ERM Committee.
Integrated Management of Risk, Returns and Capital
To realize its management vision, the Group formulates medium-term management plans in accord with its Group Risk Appetite Statement and holistically manages risk (integrated risk amount), returns (Group Adjusted Profit) and capital (NAV) in the aim of maintaining financial soundness and boosting capital efficiency and risk/return.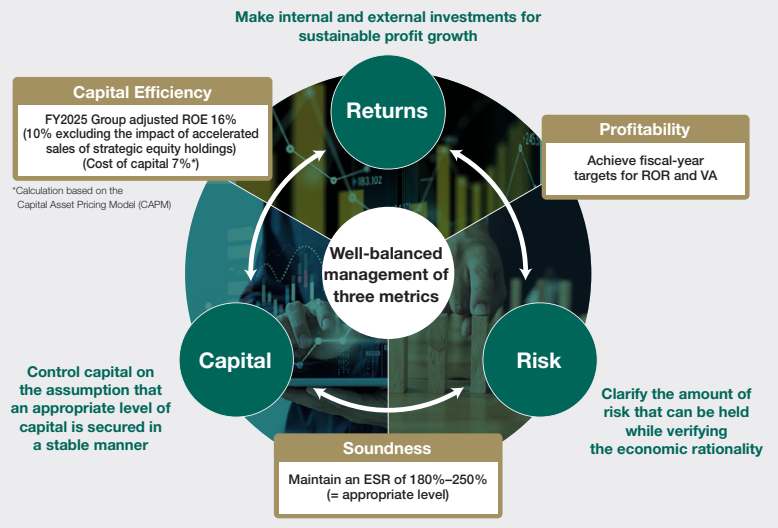 ERM Cycle

Initiatives to Boost Profitability
To boost capital efficiency while maintaining financial soundness, the MS&AD Insurance Group seeks to earn adequate risk/return through the following initiatives in each of its business domains.
Control of Risk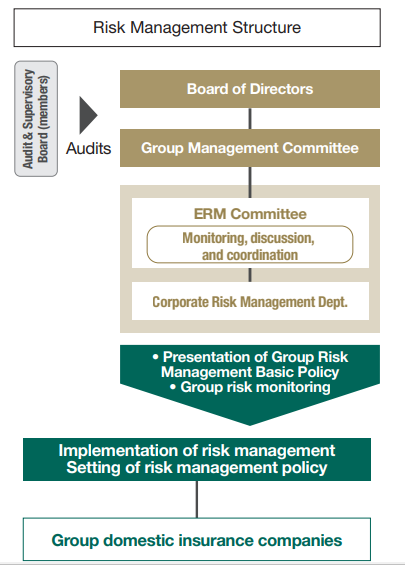 The MS&AD Group has established the MS&AD Insurance Group Risk Management Basic Policy, which underpins the common risk management exercised throughout the Group. Specifically, we promote risk management by identifying the principal types of risk with an impact on the Group's business portfolio and evaluating risk factors quantitatively and qualitatively.
・Risk Management Basic Policy
・Risk Management Structure
・Insurance Business Risks
・Risk Management in International Business
・Crisis Management System (Including Business Continuity Management System)
Specifying Risks
The MS&AD Insurance Group identifies important risk items to be addressed by management as Group material risks, formulates a relevant management action plan, and periodically monitors each risk.

Listed below are items with potential for medium- to long-term impact on Group operations and items whose impact and timing are difficult to measure at present but that we need to maintain awareness of. These items are subject to periodic monitoring a Group emerging risks.


Management of Natural Catastrophe Risk
Control of the Retained Amount of Natural Catastrophe Risk