World-leading insurance and
financial services group
Harnessing the distinguishing features of each Group company, every effort is being made to provide a wide range of products and services to address diversifying risks and meet customer needs.
Fortune Global 500-2021 Income Ranking
Source: Fortune Global 500 2021 Insurance Property & Casualty (Stock + Mutual)
Note: Ordinary income basis for Japanese insurance companies (sum of non-life insurance premium income, life insurance premium income, investment income, etc.)
Domestic Non-Life Insurance Business
The insurance group most chosen by customers in Japan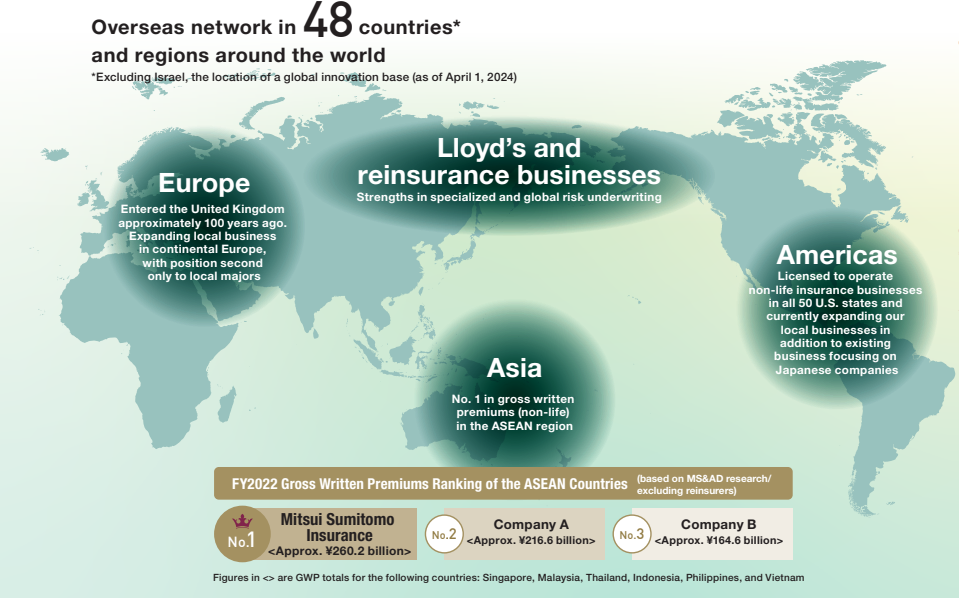 Domestic Life Insurance Business
No. 9 in premiums income among domestic life insurance companies/groups
International Business
No. 1 in gross written premiums (non-life) in the ASEAN region
With global business expansion to 48 countries and regions, especially in Asia, and as the world's only global non-life insurance group with a presence in all 10 ASEAN countries, the Group maintains the No. 1 presence for gross written premiums in the ASEAN region.