<This page will be updated on July 2022>
Based on the Perspective of Sustainability of the MS&AD Insurance Group, as an insurance and financial services provider, we offer coverage on various risks that include accidents and disasters. We also focus on solving social issues in order to reduce the rise of risks. We will create common value with society through corporate activities that include "Identifying risks and providing information on risks," "preventing risks from occurring/minimizing the impact of those risks," and "reducing the economic burden."
<This page will be updated on July 2022>
In 2018, the Group's Sustainability Committee held discussions on seven priority issues (challenges for CSV) and the core initiatives targeting them, and developed the Medium-Term Sustainability Plan which was later incorporated into the Group Medium-Term Management Plan (Vision 2021). In Vision 2021, we have set the image of society in 2030 as a "resilient and sustainable society." In order to be widely supported by stakeholders and to grow in a sustainable way, it is indispensable to continue creating shared value with society through corporate activities, also known as Creating Shared Value, CSV. We will aim to realize a "resilient and sustainable society" by focusing on the priority issues with using the UN Sustainable Development Goals (SDGs) as leading marks.
<This page will be updated on July 2022>
Issue prioritization based on international guidelines, including ISO 26000 and SDGs, is of great importance for both stakeholders and MS&AD Group's business. We identified material issues based on their priority.
In order to accurately grasp the issues that society needs to solve, we identified social issues based on inputs from our stakeholders (customers, shareholders, business partners, the environment, local society, international society, employees, and agencies), the international frameworks, and the goals of the frameworks.
Diverse risks surrounding society
Diversified/large-scale accidents and/or disasters
Global environment approaches the limit (climate change, depletion of resources, etc.)
Mounting burden of nursing/medical care due to aging population
Economic slowdown by widening inequality
With regard to the identified social issues and the Group's corporate activities, we analyzed items based on where we can make a significant contribution to social sustainability together with issues that have a major impact on the Group's long-term growth in the areas of economy (E), society (S), and organizational governance (G). From this process, we extracted seven priority issues. These seven priority issues are recognized as our challenges for CSV (Creating Shared Value) in order to clarify our intention to address them as initiatives that create value for both society and the Group. Furthermore, the goals that we aim to achieve through solving these issues are aligned with SDGs.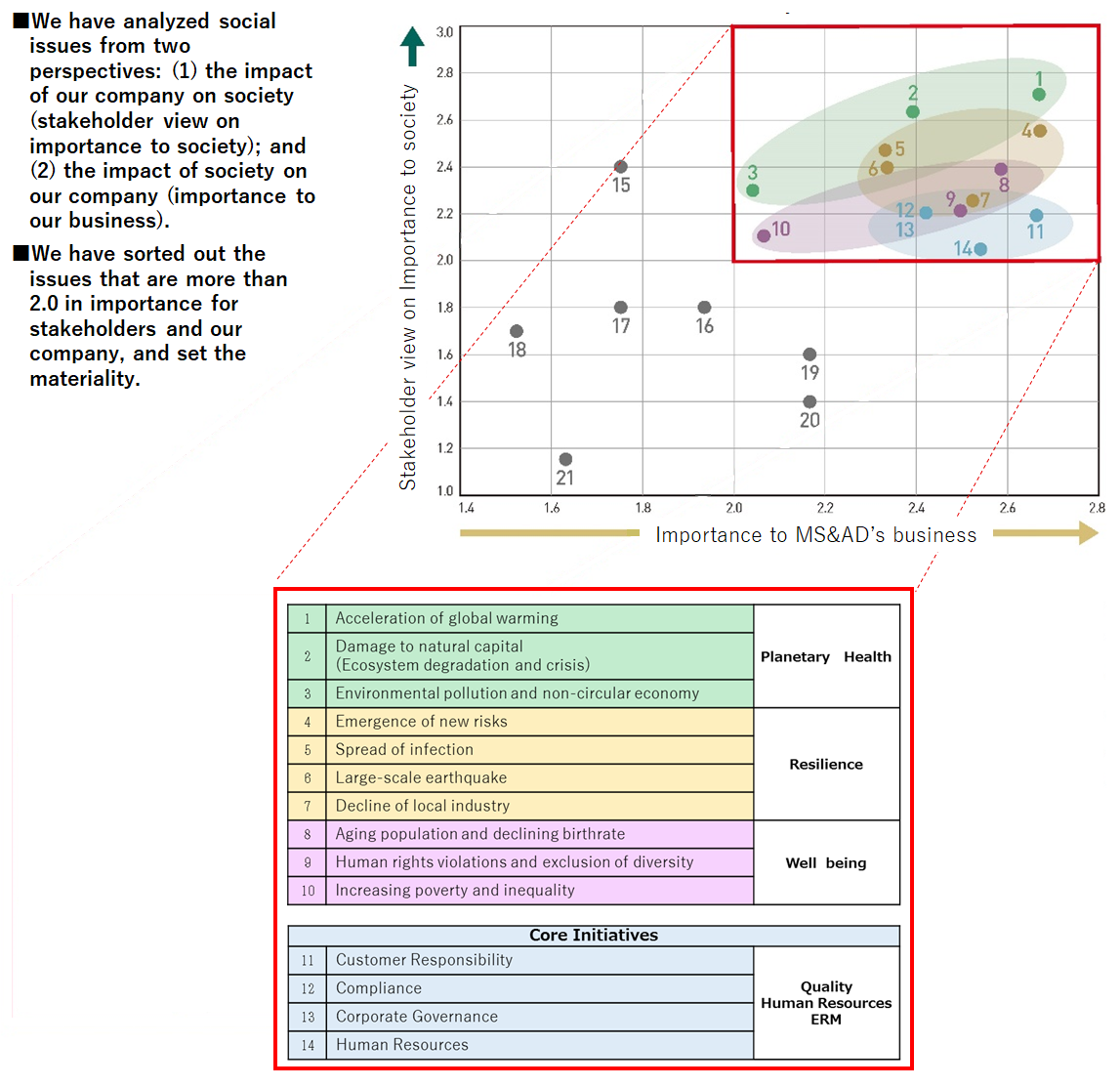 Based on the criteria of Creating Shared value, we define, 'Quality that earns the trust of society' and 'Management platforms that enable employees to play active roles' as the core initiatives that support to solve the priority issues.
The identified core initiatives are reported to the management team as the Priority Sustainability Issues of the Medium-term Management Plan, Vision2021, and are disclosed to stakeholders through information sharing meetings and to employees through briefing sessions.
We have set Key Performance Indicators (KPI) targets to promote Sustainability initiatives.
We estimate both the "impact on society" and the "economic impact on our Group" from CSV initiatives.
For realizing a resilient and sustainable society, we have set three priority issues; i) contribute to climate change mitigation and adaptation, ii) strive to improve sustainability of natural capital , and iii) Activities and dialog that respect human rights, that have a major impact on both the society and the Group.
The MS&AD Insurance Group has established its sustainability approach, which it upholds as a collection of strategies for ESG issues. In all of its corporate activities, including the development and provision of products and services and investments and loans, the Group takes sustainability into account, including factors such as environment, society, and corporate governance (ESG).
Strategies and plans for sustainability-related initiatives are discussed at the Board of Directors meetings and quarterly Committee Meetings. The Sustainability Committee comprises of members that include presidents, officers in charge of planning and risk management, outside directors of the Company and the Group's domestic insurance companies, and discusses considerations for sustainability issue in all business activities. The details of the Sustainability Committee's discussions are reported to the Board of Directors and the Management Committee.