Based on the Perspective of Sustainability of the MS&AD Insurance Group, as an insurance and financial services provider, we offer coverage on various risks that include accidents and disasters. We also focus on solving social issues in order to reduce the rise of risks. We will create common value with society through corporate activities that include "Identifying risks and providing information on risks," "preventing risks from occurring/minimizing the impact of those risks," and "reducing the economic burden."
Image of Society in 2030: "Resilient and Sustainable Society"
In 2018, the Group's Sustainability Committee held discussions on seven priority issues (challenges for CSV) and the core initiatives targeting them, and developed the Medium-Term Sustainability Plan which was later incorporated into the Group Medium-Term Management Plan (Vision 2021). In Vision 2021, we have set the image of society in 2030 as a "resilient and sustainable society." In order to be widely supported by stakeholders and to grow in a sustainable way, it is indispensable to continue creating shared value with society through corporate activities, also known as Creating Shared Value, CSV. We will aim to realize a "resilient and sustainable society" by focusing on the priority issues with using the UN Sustainable Development Goals (SDGs) as leading marks.
Identifying Priority Issues
Issue prioritization based on international guidelines, including ISO 26000 and SDGs, is of great importance for both stakeholders and MS&AD Group's business. We identified material issues based on their priority.
[STEP 1] Analysis of social issues
In order to accurately grasp the issues that society needs to solve, we identified social issues based on inputs from our stakeholders (customers, shareholders, business partners, the environment, local society, international society, employees, and agencies), the international frameworks, and the goals of the frameworks.
Diverse risks surrounding society
Diversified/large-scale accidents and/or disasters
Global environment approaches the limit (climate change, depletion of resources, etc.)
Mounting burden of nursing/medical care due to aging population
Economic slowdown by widening inequality
[STEP 2] Identification of priority issues
With regard to the identified social issues and the Group's corporate activities, we analyzed items based on where we can make a significant contribution to social sustainability together with issues that have a major impact on the Group's long-term growth in the areas of economy (E), society (S), and organizational governance (G). From this process, we extracted seven priority issues. These seven priority issues are recognized as our challenges for CSV (Creating Shared Value) in order to clarify our intention to address them as initiatives that create value for both society and the Group. Furthermore, the goals that we aim to achieve through solving these issues are aligned with SDGs.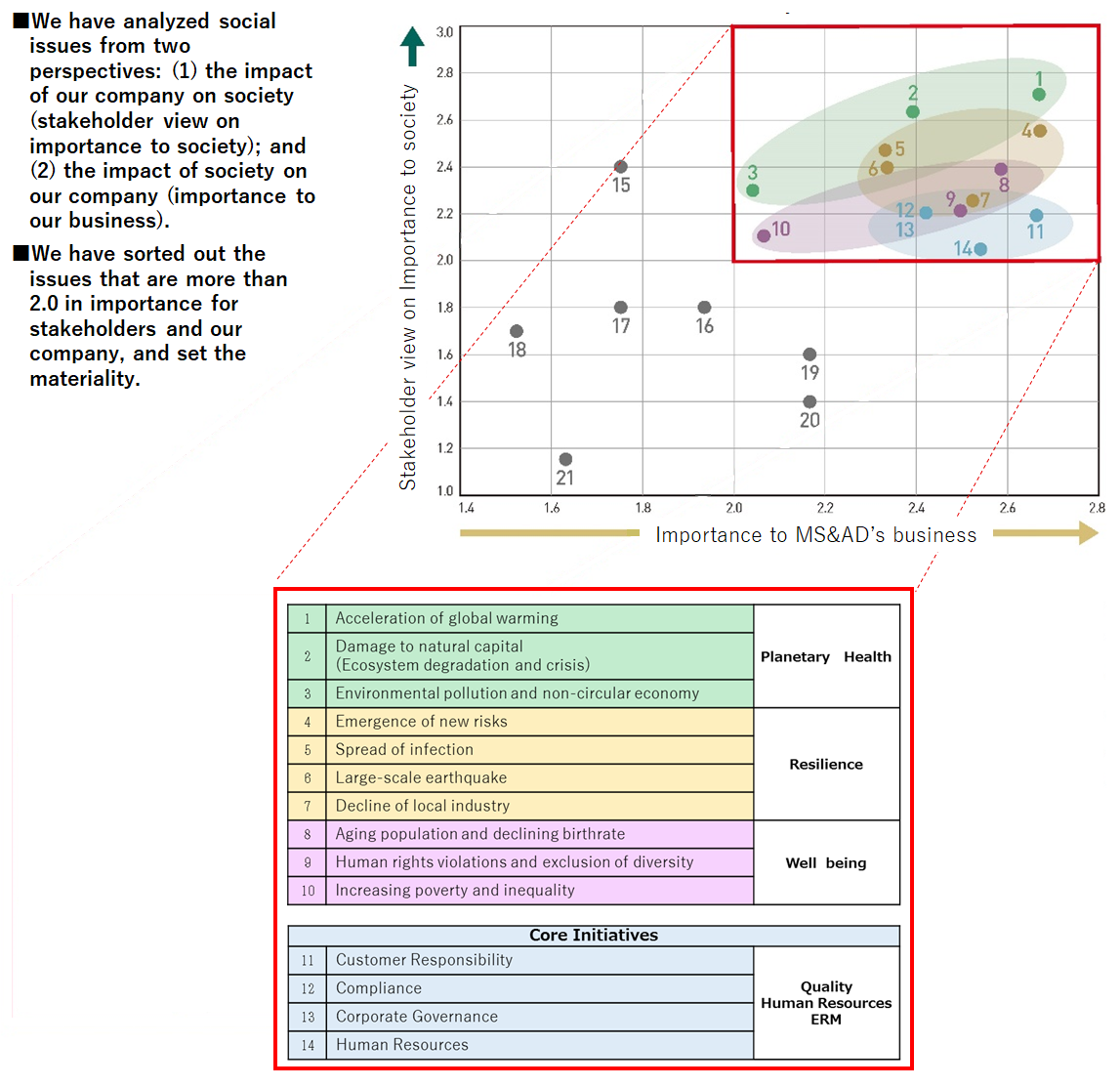 [STEP 3] Identifying Core Initiatives to underpin Priority Issues
Based on the criteria of Creating Shared value, we define, 'Quality that earns the trust of society' and 'Management platforms that enable employees to play active roles' as the core initiatives that support to solve the priority issues.
[STEP 4] Reporting to the Management Team
The identified core initiatives are reported to the management team as the Priority Sustainability Issues of the Medium-term Management Plan, Vision2021, and are disclosed to stakeholders through information sharing meetings and to employees through briefing sessions.
Targets and Results
We have set Key Performance Indicators (KPI) targets to promote Sustainability initiatives.
Impacts of CSV Initiatives
We estimate both the "impact on society" and the "economic impact on our Group" from CSV initiatives.
Our Sustainability Priorities
For realizing a resilient and sustainable society, we have set three priority issues; i) contribute to climate change mitigation and adaptation, ii) strive to improve sustainability of natural capital , and iii) Activities and dialog that respect human rights, that have a major impact on both the society and the Group.
ESG Integration
The MS&AD Insurance Group has established its sustainability approach, which it upholds as a collection of strategies for ESG issues. In all of its corporate activities, including the development and provision of products and services and investments and loans, the Group takes sustainability into account, including factors such as environment, society, and corporate governance (ESG).
Management Structure
Strategies and plans for sustainability-related initiatives are discussed at the Board of Directors meetings and quarterly Committee Meetings. The Sustainability Committee comprises of members that include presidents, officers in charge of planning and risk management, outside directors of the Company and the Group's domestic insurance companies, and discusses considerations for sustainability issue in all business activities. The details of the Sustainability Committee's discussions are reported to the Board of Directors and the Management Committee.
Initiatives
Our Group participates in various initiatives and strives to create shared value with society. We will continue to work to identify and address a diverse range of sustainability issues.
| | |
| --- | --- |
| Paris Pledge for Action | We support the "Paris Agreement," which countries all across the world affirmed in December 2015 to tackle climate change, and we have signaled our intention to work toward this goal by signing the "Paris Pledge for Action." |
Participation in the United Nations Global Compact*

The MS&AD Insurance Group strives to carry out corporate activities with respect to the principles of the UN Global Compact. Furthermore, the Group is involved in the operation and activities of the Global Compact Network Japan, a local network of the UN Global Compact, by serving as an organizer of working sessions.

* An initiative advocated by the former UN Secretary-General Kofi Annan in 1999. It requires global companies to comply with and practice 10 principles related to human rights, labor, environment, and anti-corruption.
The Principles for Sustainable Insurance (PSI) and the Principles for Responsible Investment (PRI)

The MS&AD Insurance Group has been seeking out what are the best practices for financial institutions that take into account environmental and social sustainability, and it has been participating in the United Nations Environment Programme Finance Initiative (UNEP FI) to disseminate and promote these best practices. Our company has signed on to the Principles for Sustainable Insurance (PSI) and the Principles for Responsible Investment (PRI) published by UNEP FI.


Signatory to the Principles for Sustainable Insurance (PSI) and the Principles for Responsible Investment (PRI)
| | |
| --- | --- |
| Task Force on Climate-related Financial Disclosures | In June 2017, The Task Force on Climate-related Financial Disclosures (TCFD) released its Final Recommendations constituting a framework for companies and other organizations to voluntarily disclose climate-related information. MS&AD Holdings disclose information on climate-related efforts in line with these Recommendations. |
Japan Climate Initiative

The MS&AD Insurance Group has signed up to the Japan Climate Initiative.
The Initiative was launched in 2018 with the aim of enhancing Japan's efforts to address climate change and sharing information on such efforts with the rest of the world. Under the Initiative, companies, local governments and NGOs that are actively engaged in climatechange action cooperate toward achieving the goal. Being a signatory to the Initiative also means that we approve ofits declaration: "Joining the front line of the global push for decarbonization from Japan." The declaration representsone of the efforts made toward meeting the well-below 2°C goal of the Paris Agreement under the United NationsFramework Convention on Climate Change that was adopted in 2015.
| | |
| --- | --- |
| Natural Capital Finance Alliance | In July 2016 our Group signed the Natural Capital Declaration, which calls on financial institutions to incorporate the concept of "natural capital" into their financial products and services, and we have been taking part in the Natural Capital Finance Alliance (NCFA). |
| | |
| --- | --- |
| CDP | The CDP (formerly known as the Carbon Disclosure Project) is an independent nonprofit organization with the world's largest database for corporate measures against climate changes, and corporations and organizations across the world have disclosed their greenhouse gas emissions and measures against climate change through CDP. The MS&AD Insurance Group subscribes to CDP's approaches and continuously submits new data. |
Principles for Financial Action toward a Sustainable Society in the 21st Century (PFA21)

In October 2011, the "Principles for Financial Action toward a Sustainable Society in the 21st Century (PFA21)" and "Business-specific Guidelines (insurance, deposits, loans and leases, investment management, securities and investment banking)" were released in Japan. These principles were created as action guidelines for financial institutions that want to fulfill their responsibilities and roles in building a sustainable society.
MS&AD Holdings, Mitsui Sumitomo Insurance, Aioi Nissay Dowa Insurance, Mitsui Direct General Insurance, Mitsui Sumitomo Aioi Life Insurance, Mitsui Sumitomo Primary Life Insurance, and MS&AD InterRisk Research & Consulting have signed, showing their intent to follow these principles.
| | |
| --- | --- |
| Challenge Zero (innovation challenges toward a decarbonized society) Declaration | In June 2020, Keidanren (Japan Business Federation) released its "Declaration on Challenge Zero" in support of achieving a net zero regarding greenhouse gas emissions as early as possible, in line with the goal of the Paris Agreement. |
| | |
| --- | --- |
| "Plastics Smart" Forum | We participated in the Plastics Smart campaign promoted by the Ministry of the Environment and joined the Plastics Smart Forum in July 2019. We will tackle the problem of plastic waste more actively than ever before and contribute to the SDGs by "improving the sustainability of natural capital," one of the Group's priority issues. |