The MS&AD Integrated Report covers the Group's goals to be achieved, medium-term strategy, the frameworks and systems that enhance enterprise value, in order to help your better understanding of our value creation.
In our Integrated Report 2017, we clearly convey our strength, "management that leverages diversity." In addition, in the "Special Feature" we introduce actual examples of how our employees contribute to the solutions for social issues through their work in various business domains across the globe.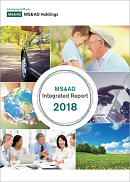 The MS&AD's Story of Value Creation
Five Business Domains
Positioning in Each Business Domain
History of the MS&AD Insurance Group in Japan
Key Management Indicators and Total Shareholder Return (TSR)
CEO Message
MS&AD's Aspirations and Recognition of Business Environment
Medium-Term Management Plans
Financial and Capital Strategy
Measures to Achieve Group ROE and Group Core Profit Targets and Achieve Sustainable Growth
Financial and Non-Financial Highlights
Strategies by Business Domain
Asset Management Strategy
Creating Value by Helping to Solve Social Issues
Global Round Table
Our Story of Value Creation
World Map of Major Disasters in 2016
ERM
Corporate Culture and Human Assets Development
Corporate Governance
Mitsui Sumitomo Insurance Co., Ltd.
Aioi Nissay Dowa Insurance Co., Ltd.
Mitsui Direct General Insurance Co., Ltd.
Mitsui Sumitomo Aioi Life Insurance Co., Ltd.
Mitsui Sumitomo Primary Life Insurance Co., Ltd.
MS Amlin plc
MSIG Holdings (Asia) Pte., Ltd.
Credit Ratings
Basic Knowledge about the Insurance Industry
Basic Knowledge of Insurance
Glossary of Insurance Terminology
Performance Record
ESG Evaluation and Participation in Initiatives
Third-Party Assurance
Up to FY2015 (Integrated Report)
Up to FY2014 (Disclosure)
Mitsui Sumitomo Insurance
Solvency margin rate of Mitsui Sumitomo Insurance stated in annual reports from FY2004 through FY2008 is adjusted in the FY2009 report.