MS&AD Insurance Group's Aioi Nissay Dowa Insurance Co., Ltd. (President: Yasuzo Kanasugi) is announcing that Toyota Insurance in Germany*1 operated by the European subsidiaries Aioi Nissay Dowa Insurance Company of Europe (ADE) and Toyota Insurance Management (TIM) was ranked 1st in 2020, for the 10th time and the 8th successive year since 2013 in a dealer satisfaction survey of automobile maker brand insurance carried out every year by the largest German automobile magazine "Autohaus".
1. About the dealer satisfaction survey
"Autohaus," an automobile/dealer industry magazine launched in 1957, started the survey in 2009 to improve customer satisfaction by strengthening the relationship between automobile dealers and insurance partners (insurance underwriters, etc.). The survey is done through interviews conducted by a market research company in conjunction with an automobile technology company.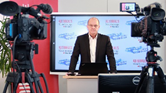 Summary of the survey
479 dealers, around 740 interviews conducted

Survey covers 19 items in 8 categories: automobile insurance products, claim settlement service, business support system, business strategy, dealer package products, internal management, brand image and customer support.

Dealers evaluated each item on a scale from 1 to 6 (1 being best)
*The award ceremony was held via live stream this year due to COVID-19.
2. Award-winning points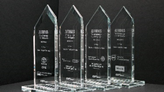 Summary of the award
Overall No. 1 (8th consecutive year and 10th time) and also No. 1 among major import brands.

Overall score was 1.69.

The best score was 1.21 with "Very few complaints from the customers," followed by "Decision making authority of the field staff" and "Understanding of the product contents."

The highest insurance penetration rate (as calculated by Autohaus) for both new and used cars.
3. Comments
(1) Michael Kainzbauer, TIM CEO Europe and Africa Region
We are very proud of this 10th award. Especially when taking into account that 2020 was heavily impacted by the pandemic. Overall dealer satisfaction is under stress in the market due to COVID-19. Even so, we can see that our retailers really continue to strive, as well as our Toyota colleagues at Distributors*2 and in Financial Services. A big thanks to all our partners.
(On the left in the photo. On the right is Martin Spangenberg, ADE Germany Branch Manager)
(2) Toyota Lexus Dealer Association
We were impressed when we heard that you and your team had won the "ICHIBAN" for the 10th time.
First place is always the reward for excellent performance. Your performance is right and as TLHV, we are convinced that we can increase the penetration further, supported by this success. Let's continue to make improvements for a further leap forward! We are happy to work with you and wish you and the entire team continued success.
4. Looking towards the future
At ADE and TIM, we will continue to improve each item and work closely with the dealers in Europe to provide the best insurance and services to the customers. In addition, in Germany, we will continue to aim to acquire the No. 1 position next year and afterwards.
*1: Toyota Insurance in Germany
Business started in 1999. With Toyota dealers as our insurance agent, we have been proposing and providing insurance products and services to the customers who purchase cars. This business model has a high degree of commonality with the businesses we are developing in Japan, and we have transferred the knowledge and experience cultivated in Japan to overseas and developed them to suit the locality. We are the only Japanese insurance company that is developing such a business in Europe. This business model, which started in Germany, has been expanded horizontally to other European countries (the UK, France, Italy, Spain, etc.) as well as Australia, Thailand and other countries, and it is the core business among our overseas businesses. Currently, the penetration rate in Germany has grown to about 45% and the number of policies has grown to around 150,000.
*2: Distributors
Distributors are businesses that purchase and sell products (e.g., new cars) from manufacturers to retailers (e.g., car dealers). The distributor handling Toyota cars in Germany is Toyota Deutschland GmbH.
END