MS&AD Insurance Group Holdings, Inc. (President & CEO: Noriyuki Hara) has been selected
as an index component of both World Index and Asia Pacific Index of Dow Jones Sustainability
Indices ("DJSI"), the world's leading ESG investment index, for five consecutive years.
In its medium-term management plan "Vision 2021," MS&AD Insurance Group has defined
the image of society to aim for by 2030 as "resilient and sustainable," incorporating
SDGs (Sustainable Development Goals) as milestones to CSV (Creating Shared Value).
MS&AD Insurance Group, this year, was especially recognized for the initiative of climate
change and customer relationship management.
MS&AD Insurance Group will continue to work toward the development of a resilient and
sustainable society and our mission, "to contribute to the development of a vibrant
society and help secure a sound future for the planet by enabling safety and peace of mind".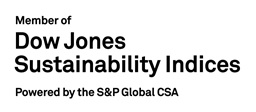 DJSI is an ESG investment indicator created by US-basedS&P Dow Jones Indices.
DJSI is widely used when institutional investors integrate sustainability considerations into their portfolios with the expectation of the long-term return for their investment.
Around 2,500 global leading companies are evaluated on the basis of "economic, environmental, and social" aspects, and companies in the top 10 to 20 percent of each segment, globally (DJSI World) and for each region (DJSI Asia Pacific, Europe, North America, etc.) are selected as the index components in DJSI.
End